Walmart Supporting its Associates
March 25, 2020
Cornwall Ontario – Tens of thousands of our Walmart team members are working hard every day to take care of Canadians, servicing our communities and supporting each other across Canada.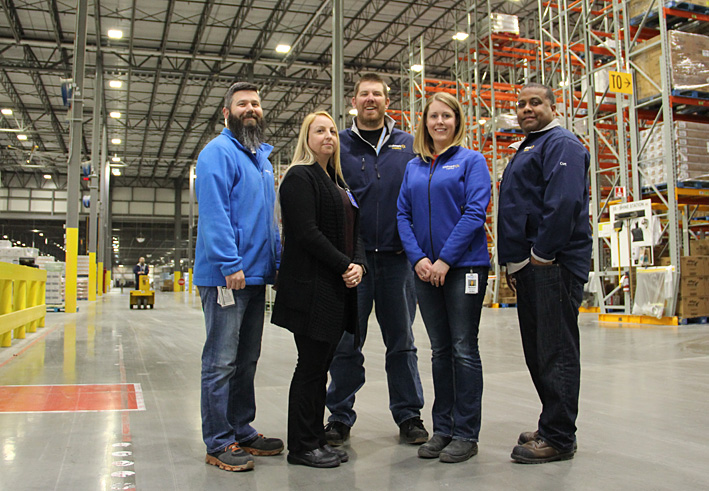 Walmart has announced a series of programs designed to thank and reward store and supply chain associates during this time.
"These are uncertain times for our business and for many of you. But it's also brought out the best in our 90,000 Associates," said Horacio Barbeito, President and CEO of Walmart Canada.
Walmart associates are going above and beyond to organize and deliver products to stores, ensure shelves are stocked, checkout is fast and customers have access to all their family needs.  In a note on its website, the company also expresses its appreciation for employee family members who have had to take on extra responsibilities – particularly with many schools and daycares closed.
The following programs are now in the place to support associates:
1. Appreciation Bonus – All active full-time hourly associates will receive a March Appreciation Bonus of $200 and part-time associates will receive a $100 bonus.
2. Thank You Premium – Effective April 3 through April 30, for every hour worked, Walmart Canada will be providing a Thank You Premium of $2.00 for every store and supply chain hourly associate on top of their hourly rate. This premium will be included on each pay for hours worked throughout this period.
3. Associate Discount Enhancement – In addition to their existing discounts, Walmart Canada will be offering every Associate an additional 10% discount for two shopping days in April. This will help enable Associates to purchase the essentials they need.
4. Store Incentive Program – Walmart Canada has accelerated the deposit of Annual Incentive Plan payouts by 2 weeks for all Store Associates. All eligible Associates will receive their payment earlier on April 3.
5. Access to Online Physician Care – Walmart Canada is offering access to live online physician care for all 90,000 Associates at no cost so that they can get the advice and care they need.
6. Support For Quarantined Associates – Walmart Canada is providing two-week replacement pay for Associates under mandated quarantine and additional supplemental income for those with confirmed cases who are require to stay home beyond two weeks.
Walmart Canada maintains two large distribution centres and a SuperCentre retail store in Cornwall, with a workforce of well over 2000 people.
Job Postings
Walmart Canada has also announced a major recruitment campaign to increase its workforce to meet the needs of Canadians. Current job postings can be viewed on the ChooseCornwall.ca Job Board.
About the Cornwall Distribution Hub
Walmart's Cornwall Distribution Hub is comprised of two large buildings, the Harmony Distribution Centre and the Regional Distribution Centre.  Both buildings, measuring 1.5 million sq.ft. each, are located in the Cornwall Business Park.
The Harmony Distribution Centre handles fresh produce, dairy and meat products that form the core of Walmart's growing grocery business.  It also houses Walmart fleet operations, along with dealing with imported goods and high velocity items.
Together, the Harmony and Regional Distribution Centre form a Cornwall campus that handles over 500,000 packages a day.
About Walmart Canada Logistics
Walmart Canada's distribution centres are hubs of activity, with more than 4,500 associates and drivers moving thousands of items daily from sites located in Calgary, Mississauga and Cornwall to stores from coast to coast. Walmart Canada operates 8.75 million square feet of distribution centre and will move approximately 853 million cases of merchandise in FY19. These goods are transported by a combination of 3rd party fleet as well as Walmart Canada's fleet of 180 tractors, 2,000 trailers and more than 350 drivers. Walmart associates receive competitive wages and benefits, and enjoy working in a team environment with an inclusive culture. Associates have unparalleled career mobility, training, learning and development opportunities, and the ability to shape their own careers.
About Walmart Canada
Walmart Canada operates a growing chain of over 400 stores nationwide serving more than 1.2 million customers each day. Walmart Canada's flagship online store, walmart.ca is visited by 750,000 customers daily. With more than 85,000 associates, Walmart Canada is one of Canada's largest employers and is ranked one of the country's top 10 most influential brands. Walmart Canada's extensive philanthropy program is focused on supporting Canadian families in need, and since 1994 Walmart Canada has raised and donated more than $350 million to Canadian charities. Additional information can be found at: