Walmart Welcomes New Workers to Cornwall
October 21, 2022
Cornwall Ontario – Walmart Logistics is set to welcome over 200 new associates to Cornwall over the next several weeks.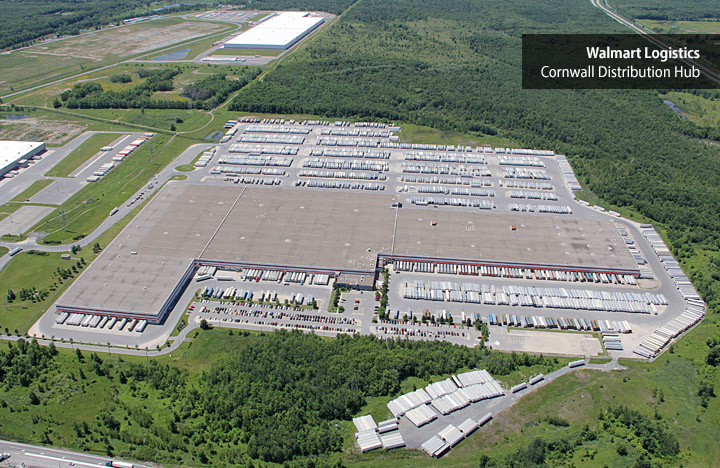 The new workers are coming from a variety of places in Canada, including Montreal, Ottawa and the GTA. Many of these workers are newcomers to Canada, and have obtained their permanent residency status.
"As our business grows, so does our need to increase our team," says Rene-Paul Gomis, Regional Manager, People – Logistics with Walmart. "We continue to have employment opportunities at our Cornwall Distribution Hub, and these new workers will certainly help us address the seasonal surge that always happens at this time of the year."
Over 150 workers have already landed in Cornwall, and are staying at temporary accommodations at the DEV Centre and local hotels. Another 50 are expected to arrive over the next few weeks.
"The goal is to convince our new associates to stay and settle in Cornwall," says Mr. Gomis. "Cornwall is a wonderful place to live and raise a family, and the cost of living here is so much more affordable than large urban centres like Toronto."
Job Postings
Walmart is currently looking to fill additional openings in Cornwall. Current job postings can be viewed on the ChooseCornwall.ca Job Board.
"We offer above average wages and a competitive benefits package," notes Mr. Gomis. "Our associates have unparalleled career mobility, training and development opportunities, all in a team environment with an inclusive culture."
Walmart has been working with Arrow Workforce Solutions to source these new workers. Arrow Workforce is a Canadian employment agency with offices across Canada.
About the Cornwall Distribution Hub
The Cornwall Distribution Hub supplies Walmart stores throughout Eastern Canada with quality merchandise including grocery products. It is comprised of two separate buildings, the Harmony Distribution Centre and the Regional Distribution Centre.  Both buildings, measuring 1.5 million sq.ft. each, are located in the Cornwall Business Park.  Together, the Harmony and Regional Distribution Centre form a Cornwall campus that handles over 500,000 packages a day.
About Walmart Canada Logistics
Walmart Canada's distribution centres are hubs of activity, with more than 4,500 associates and drivers moving thousands of items daily from sites located in Calgary, Mississauga and Cornwall to stores from coast to coast. Walmart Canada operates 8.75 million square feet of distribution centre and will move approximately 853 million cases of merchandise in FY19. These goods are transported by a combination of 3rd party fleet as well as Walmart Canada's fleet of 180 tractors, 2,000 trailers and more than 350 drivers.
Related Articles
About Walmart Canada
Walmart Canada operates a chain of more than 400 stores nationwide serving 1.5 million customers each day. Walmart Canada's flagship online store, Walmart.ca, is visited by more than 1.5 million customers daily. With more than 100,000 associates, Walmart Canada is one of Canada's largest employers and is ranked one of the country's top 10 most influential brands. Walmart Canada was recently recognized as a LinkedIn Top Company of 2022 and was also named one of Canada's most popular brands (based on Google searches). Walmart Canada has made a commitment to regeneration – focusing on equitable opportunity, sustainability, community, ethics and integrity. Since 1994, Walmart Canada has raised over $500 million to support communities across Canada. Additional information can be found at walmartcanada.ca