Warden's Residence at Historic SDG Jail Restored
April 18, 2019
Cornwall Ontario – After several months of work, the exterior portion of the Warden's Residence at the Historic SDG Jail has been completed. The building is attached to the Counties Administration building, and work was done by Porter's Historical Restorations.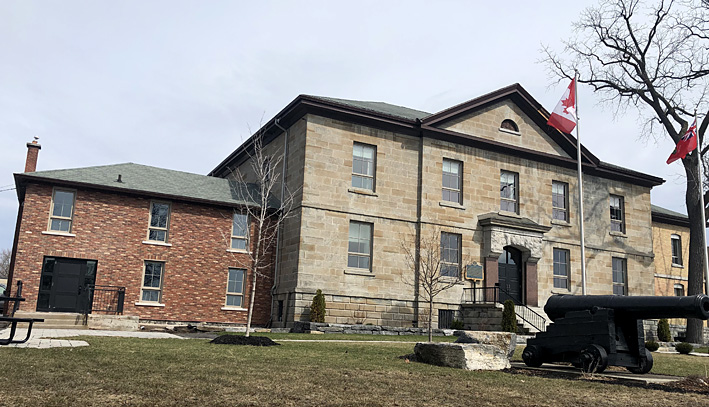 The Warden's Residence was originally clad in brick, and covered decades ago with stucco.  The County investigated removing the stucco to bring back the brickwork however after investigation, the original brick was too deteriorated to restore.  The building was renovated to closely match the original look and brings to an end almost 3 years of interior and exterior renovations to the historic SDG Counties Administration building.
""With the removal of the 1960's era concrete entrance and small windows, the brick work restores the building to its former glory," says Jamie MacDonald, Warden, The United Counties of SDG. "This, along with the extensive landscaping that was completed last summer, completely revitalizes our corporate headquarters.  This is certainly a showpiece and is among the finest properties in Cornwall."
The United Counties of SDG first authorized the construction of the Warden's Residence in 1859, which served as a home for the Governor and his family. The Warden's Residence has seen many changes throughout the years, most notably when the residence was converted into holding cells, in 1971. It is now being used as the SDG Counties Visitor and Information Centre, as well as the starting point for tours of the Historic Jail.
"The Historic SDG Jail is looking forward to an exciting 2019 season," says Nick Seguin, Tourism Coordinator with SDG. "With a soft opening Victoria Day Weekend and the official opening May 25th 2019, we look forward to hosting visitors and providing information on all things SDG and Cornwall."
About the Jail
Constructed in 1833, the Historic SDG Jail holds plenty of local history and is located in Downtown Cornwall on Water Street. It was the site of many escapes, it served as an asylum, as a house of refuge and also was home to a notable courthouse. Guided tours allow visitors to visit the original courthouse, cell blocks, surveillance room, exercise yard, the gallows and much more.
The Jail is also hosting its first paranormal event in nearly five years; Paranormal Lock Up hosted by Phantoms of Yore on May 10th and 11th. Participants are invited to spend an evening in the Historic SDG Jail looking for signs of paranormal activity.  Space is limited. Visit HistoricSDGJail.com for more details.
About the United Counties of Stormont Dundas and Glengarry
The United Counties of Stormont, Dundas and Glengarry is an upper-tier municipality in Ontario that is comprised of six local municipalities, North Stormont, South Stormont, North Dundas, South Dundas, North Glengarry and South Glengarry.  Geographically located west of Montreal and south of Ottawa, SDG has a land area of 3,297 square kilometres and is home to 66,840 people.
More info can be found online: