Water for Beer
December 24, 2020
Cornwall Ontario – Rurban Brewing has always explored ways to improve their process, all in the quest for the perfect glass of beer.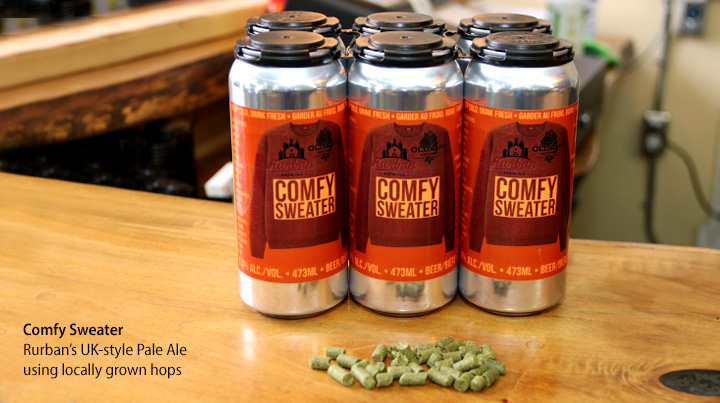 Earlier this year the Rurban team performed an internal audit of water usage at their Cumberland Street brewhouse, and discovered an opportunity to improve. The result of was a redesign of the brewing processes that leaves Rurban with one of the lowest water to beer ratios in the industry.
"Our water to beer ratio is just over 2, which compares very favourably to the industry average of 4.4," says Andy Rorabeck. "Many small craft producers have ratios that can range up to 20. We challenge other producers to improve their numbers too."
Also noteworthy is Rurban's access to locally grown high-quality hops from Old 4th in Williamstown. The first beer to feature these hops is a UK-style Pale Ale called Comfy Sweater, which sold out in short order. Look for Grampa's CAP, a Classic American Pilsner later this winter, that will feature more of Old 4th's excellent crop.
"We have been able to get through 2020 with the support of our customers and with key partnerships in the community," says Karen Rorabeck. "We have enjoyed partnering with Desjardins, Mi Cocina, Tampico's, Farm Boy, Jambel, Riley's, Petit Brulee, W. Leitch Organics, The Barley Boxer, Fairy Sweet, Glengarry Fine Cheese, Swiss Farmer Bakery, Trillium Meadows, the Agape Centre, Mrs. McGarrigle's, The Brine Cellar, Tilly's, La Bergerie des Sable, The Coffee Shop, Choose Cornwall, experienCity, Big Brothers and Sisters, and Locey's Delivery, among others, in an otherwise trying year."
About Rurban Brewery
Rurban Brewing is a small-batch brewery located on Cumberland Street in Cornwall. It first opened its doors in December 2015 to rave reviews. The brewery makes a number of small batch ales, stouts, and sours at its Cumberland Street facility, including the popular Cornwall Golden Lager. In 2017 Rurban tripled production to meet growing demand and in 2018 opened a new tap room.
More info can be found online: