Waterfront Condos to Rise at Cotton Mill District
March 30, 2019
Cornwall Ontario – The next phase in the revitalization of the Cotton Mill District has begun with the beginning of construction of new condominiums overlooking the St. Lawrence River.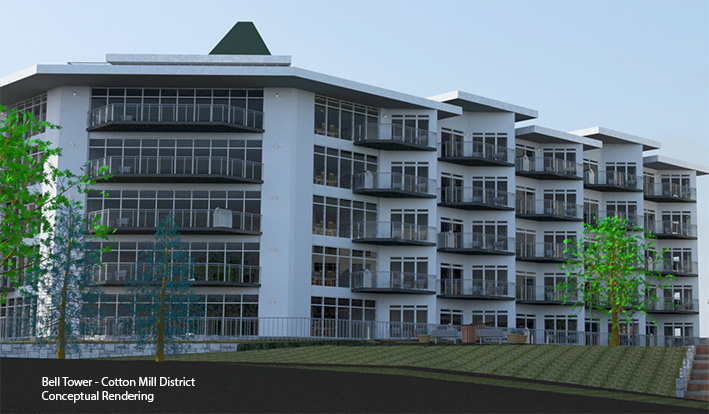 "We started work earlier this month on the Bell Tower and we expect to have occupancy in summer of 2020," says Bob Pelda, owner of R.M.P. Construction. "This is an unparalleled opportunity to live along the St. Lawrence and still have all the comforts of an urban location."
The Bell Tower will offer 56 residential units over 6 stories, with each unit having views of the St. Lawrence River.  Each unit will measure 1450 sq.ft., featuring an open-concept layout that includes 2 bedrooms and 2 baths. An observation deck on the top floor will provide residents with event space, complete with communal kitchen.  The building will be the first completely new building built in the historic cotton mill district in recent years, following successful conversion of adjacent mill buildings into residential and commercial space.
The historic Cotton Mill District was a bustling industrial area that employed hundreds of people at the end of the 19th century. The area has seen significant investment over the past several years with heritage mill buildings being transformed into condos and commercial space. A number of businesses have relocated to the area, including the Stomping Grounds Bistro and Cafe. The area is also home to a medical clinic, dentist, pharmacy, yoga studio, esthetician, chiropractic and physiotherapist. The popular Waterfront Trail traverses the south side of the district, offering access to the St. Lawrence River.
Once the Bell Tower is completed, Mr. Pelda and his team of talented professionals will begin work on the Stephens Building, which will offer an additional 76 units.
People interested in learning more are invited to contact Derek Scott, Cotton Mill Lofts Sales Manager at 613 331-0752.
About R.M.P. Construction
R.M.P. Construction & Development Ltd. focuses on discovering and redeveloping under-appreciated waterfront properties. The company is a leader in brownfield and urban infill projects, and has utilized the City of Cornwall's Community Improvement Plans to ensure the success of their developments.
More information can be found online: