Waterfront Tours Offer a New Way to Explore the Riverside Trail
July 5, 2021
Cornwall Ontario – Cornwall's waterfront is renowned for its accessible greenspace, scenic river views, amazing cycling trails and interesting landmarks and attractions.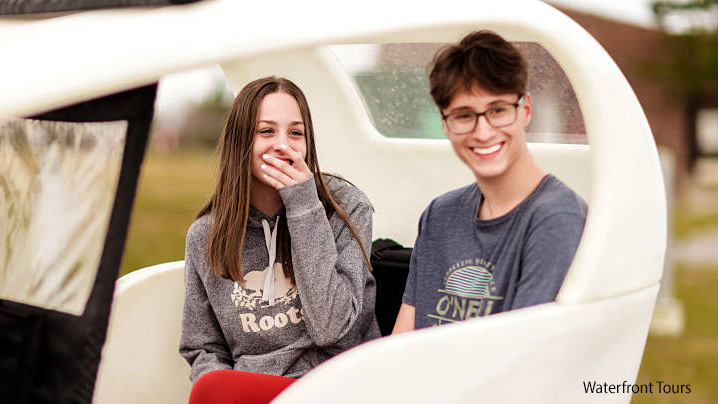 Thanks to a local company, residents and visitors can now enjoy it in a whole new way.
Waterfront Tours has launched guided tours of the waterfont with a fleet of velo tour cabs, a tear-drop shaped electric-assisted tricycle with seating for two. Piloted by a trained tour guide, the cab will take riders through Lamoureux Park and other parts of the waterfront while sharing information about landmarks and historical points of interest along the way. Stops are also included along the way for that ultimate waterfront photo op.
"Cornwall's waterfront and cycling trails are second to none," said Al McGimpsey, co-owner of Waterfront Tours along with business partner Mike Crowder. "These tours give people a chance to enjoy the beauty of the waterfront and see it in a whole new way."
The velo tour cabs look futuristic but they are not fast – and that's the whole point. With a combination of human and battery power, the cabs slowly glide along the trails, giving passengers ample time to enjoy the surrounding beauty and the river views.
"People are seeking out new experiences and new outdoor activities that they can safely enjoy," added Crowder. "Waterfront Tours is the perfect fit for those who want to see one of the best parts of Cornwall in a fun new way."
Book your ride
There are currently two tours available – a 40-minute Lamoureux Park tour (for $40 per ride) and 1.5-hour tour to the RH Saunders Generating Station (for $90). An eastern tour to Gray's Creek is in the works as well as dinner tours with participating local restaurants (for $150 all inclusive).
Waterfront Tours is based just west of the splashpad and washroom in Lamoureux Park and parking is available in front of the Cornwall Community Museum on Water Street or a short walk away at the Cornwall Civic Complex.
The company is currently running Thursdays to Sundays (weather permitting).
Rides can be reserved online at www.WaterfrontTours.ca and walk-up customers are also welcome subject to availability.
For additional information, you can also visit them on Facebook or call 613-662-0878. Enquiries for special or private tours are also welcome.
Cornwall Tourism Development Fund
Waterfront Tours was supported through the Cornwall Tourism Development Fund, a program which aims to support businesses, events and efforts that benefit the tourism economy in Cornwall. For additional information on the Tourism Development Fund, please click here.
#ExploreCornwallON
Looking for other fun things to do in Cornwall? Check out the Cornwall Tourism website for other fun-filled activities to keep you busy: