Waterfront Townhomes Add New Element to Le Village
December 6, 2019
Cornwall Ontario – Living in Le Village is trending these days and you can now add waterfront townhomes to the housing options.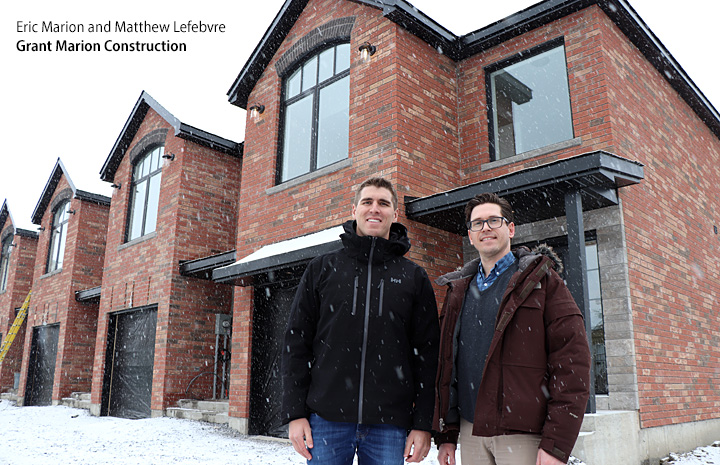 Grant Marion Construction is putting the finishing touches on 4 luxury townhomes that overlook the St. Lawrence River. The development is at the base of McConnell Avenue, immediately to the east of the Historic Cotton Mill District.
"We wanted to incorporate as many elements from the cotton mills into our design, and we think we have succeeded," says Eric Marion. "The windows have the same style as the weave shed. From the red bricks to architectural details, the homes fit in very well with nearby buildings."
Each 1600 sf townhome features an open-concept main floor living area, with the spacious second-floor offering 2 generously sized bedrooms and an office. In the kitchen an island opens up into the main living space and a gorgeous unobstructed view of the St Lawrence River. The patio sliding door off the living area is perfect for summer BBQs and backyard entertaining. Each townhome also comes with a garage and basement.
"These units are perfect for people who are looking to downsize but still want the space and flexibility of a home," says Mr. Marion. "They are centrally located and have easy access to restaurants and businesses of the Cotton Mills and Le Village. We are happy to help revitalize this historic neighbourhood."
About Grant Marion Construction
Founded in 1971, Grant Marion Construction is active in residential development, along with industrial, commercial and institutional projects. The company is a member of the Cornwall Construction Association. You can reach them by phone at 613-938-8004 or online at: