WB Hub Offers Modern Collaborative Office Space
November 13, 2020
Cornwall Ontario – Located in the Cotton Mill District, WB Hub is a new collaborative space supporting innovation and entrepreneurship that seeks to serve business professionals in Cornwall, Akwesasne and SDG.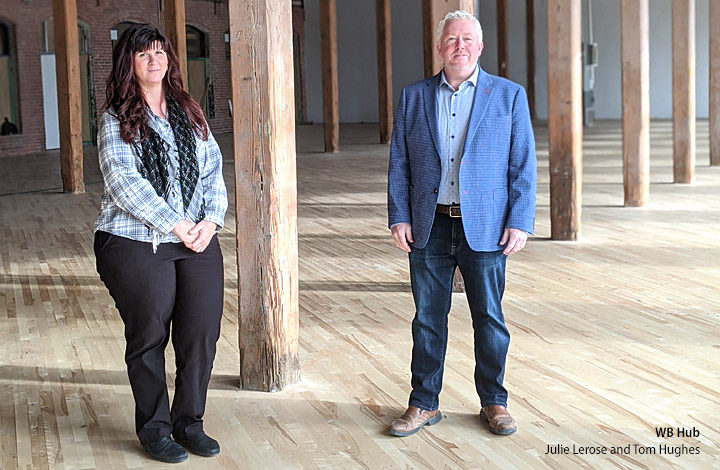 WB Hub provides an inexpensive, flexible alternative to a home office, and at the same time meets the needs of travelling business professionals who may only need to be in the city for a day or two.
"We have noticed an upward trend of small business owners in the community looking to reduce their overhead," says Julie Larose of WB Hub. "Co-working office space is a great opportunity to reduce costs. It also enables people working remotely to get out of the home office."
WB Hub will be offering a diverse range of office rentals, with free WiFi and mail boxes provided for each client. The business provides a co-working space while allowing clients the flexibility to choose their terms that suit their business needs. Collaborative office spaces will help clients create relationships with likeminded professionals, maintain and continue their own business growth.
"We have an onsite board room available which will allow our clients to expand their space when they need to meetings," says Ms. Larose. "The boardroom will be available to rent for non-hub members as well."
Despite facing construction delays due to the COVID-19 pandemic, WB Hub is now open and ready for its collaborators to fill the space.
"This pandemic has really made us all work together to find solutions," says Tom Hughes, Vice-President of the Weaving Baskets Group, the parent company of WB Hub. "For some businesses this is make or break. We want to be a part of the next solution and help entrepreneurs continue to move forward with their business."
Weaving Baskets Group is also proceeding with renovating additional space at the Cotton Mill, which has welcomed numerous businesses over the past two years. This new space is available to rent to commercial tenants, and could also accommodate an expansion of WB Hub if demand warrants.
WB Hub is located at #109-703 Cotton Mill Street.  For more information, or to book your own office space, call 613-936-1218 or connect online: