Webinar to Offer Business Decision Making Tips
September 4, 2020
Cornwall Ontario – Cornwall Economic Development is partnering with the Ministry of Economic Development, Job creation and Trade to bring a number of timely webinars to local business decision makers.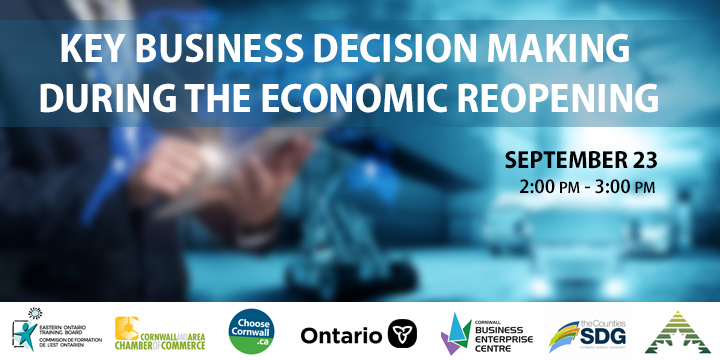 The first webinar will take place on September 23 at 2:00pm and is titled Key Business Decision Making During Re-Opening. Steven Karpenko will present a playbook for emerging from the pandemic as a stronger and more flexible business – one that is better prepared for the challenges of the present and the uncertainty in what lies ahead.
"These webinars have proved to be very popular in other Ontario communities and we are happy to bring the series to Cornwall, SDG and Akwesasne," says Denis Lapierre, Senior Business Advisor with the Ministry of Economic Development, Job Creation and Trade.
Registration Details
The webinar will take place on the Zoom platform and is scheduled for 60 minutes. There is no cost to attend, however people are asked to register with the Cornwall Business Enterprise Centre via EventBrite:
Key topics will be leading through crisis and identifying opportunities while operating within the "new normal."
Your re-opening toolkit
Taking the pulse
Strategic leadership
New business models and evaluating ideas
Organizing and leading through crisis
Re-open AND Re-invent
The webinar is a joint effort between the Ministry of Economic Development, Job Creation and Trade (MEDJCT) and local partners including Cornwall Economic Development, United Counties of SDG, Cornwall Business Enterprise Centre, Eastern Ontario Training Board and the Cornwall and the Counties Community Futures Corporation.
About the Presenter
Mr. Karpenko has over 20 years experience assisting companies with financial turnarounds, lean operations and retail supply chain solutions. Prior to joining the Ontario government, he was with the Business Development Bank of Canada as a senior business advisor, and with the Canadian Tire Corporation, where he managed their national network of retail sales systems.  He has owned companies in the life sciences sector and commercial software development and is happy to share his experiences.
About MEDJCT
The Ministry of Economic Development, Job Creation and Trade is responsible for programs to attract and retain business and economic development in the province of Ontario.