Webinar to Showcase EDC Services for Local Companies
September 7, 2022
Cornwall Ontario – Does your company sell to the United States or abroad? Do you sell to Canadian companies that have clients in these markets?  Do you have exporting plans on the horizon?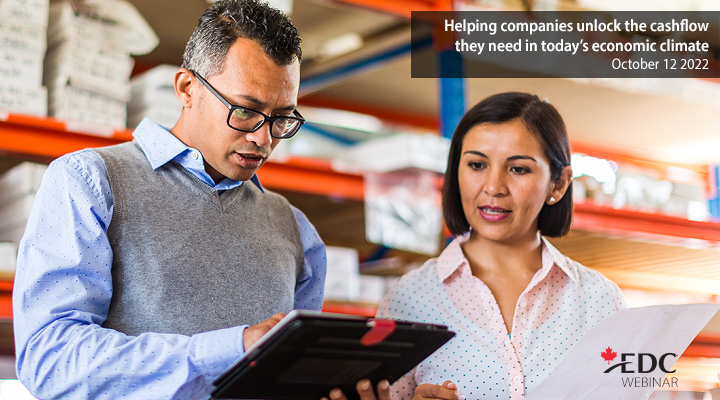 If you answered yes to any of the above questions, you will find value in an upcoming interactive webinar sponsored by the Ministry of Economic Development Job Creation and Trade – Business Advisory Services.
Exporting offers a great pathway to increasing revenues – however success does require thorough preparation, planning and, most often, the expert support of Export Development Canada (EDC ). The webinar will explore how EDC can help Canadian companies like yours.
"You don't have to be a huge corporation—size isn't related to success abroad," says Chris O'Donnell, EDC's Representative for Stormont Dundas & Glengarry, Prescott-Russell and Leeds-Grenville Counties. "This webinar provides a great introduction some key factors that exporters need to consider, who EDC is, and what we have to offer."
Webinar Details
Title: Helping companies unlock the cashflow they need in today's economic climate.
Date: Wednesday, October 12 , 2022
Time: 10:00am – 11:00am
Channel: Microsoft Teams
There is no cost to attend the webinar, however advance registration is required.
Click HERE to register now!
About Export Development Canada
EDC's mandate is to support and develop Canada's export trade by helping Canadian companies respond to international business opportunities using a broad range of products and services. These products and services include:
Insurance:  protection that lowers the risk for Canadian companies doing business beyond our borders.
Financing:  helping Canadian companies get access to capital.
Knowledge:  expertise that helps companies make informed decisions and learn more about international markets.
Connections: EDC connects Canadian companies to a vast network of domestic and international partners.