Wills Transfer Opens New Distribution Centre in Ingleside
February 9, 2023
Cornwall Ontario – Wills Transfer Limited has opened a 155,000 sq.ft. warehouse facility and there are already plans to expand that footprint to more than 680,000 sq.ft. over the next few years.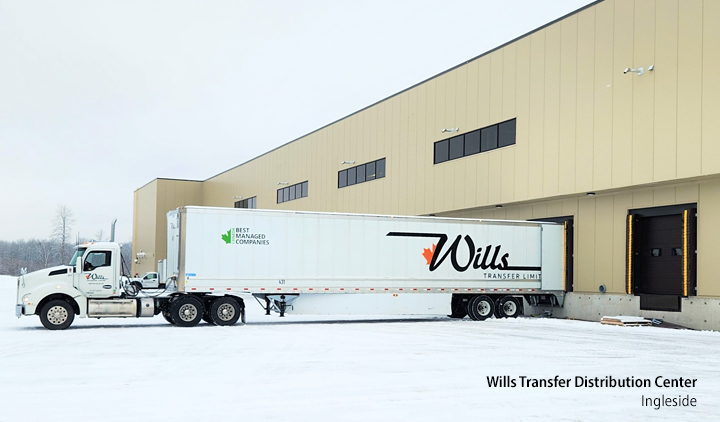 The new $25 million facility boasts 9,000 rack positions and 4,000 bulk positions to support an array of warehouse storage needs with 14 dock doors and two ground-level doors available. The facility is located just west of Cornwall in the hamlet of Ingleside in the Township of South Stormont in the United Counties of Stormont Dundas and Glengarry. The site has excellent access to Highway 401.
"We are excited to open our new distribution warehouse in Ingleside and be a part of the SDG Counties business community," said Terry Wills, Wills Transfer president. "This site was chosen because of its prime geographical location, right on the 401, between Montreal and Toronto, and close to international bridges."
The Wills Transfer facility joins a growing list of transportation and distribution operations in the region that has helped establish Cornwall as one of Canada's main logistics hubs.
"This is a major investment in SDG Counties and we are thrilled that Wills Transfer chose to invest in SDG," said Tara Kirkpatrick, SDG Counties' Manager of Economic Development. "This logistics facility will have a major impact on our region and will support other area businesses."
Jobs at Wills Transfer
Mr. Wills indicated the local labour force has embraced the opportunities at the Ingleside distribution centre.
"We will launch the warehouse with 10 new hires," said Wills. "There has been a huge response to our job postings, and we have recruited 10 exceptional employees that have accepted job offers and are now being onboarded at our new facility. Wills Transfer Limited is looking forward to growing our business in SDG Counties."
Wills Transfer Limited, headquartered in Smiths Falls, has been a mainstay in the logistics industry since 1945. The company plans to continue expanding in eastern Ontario and has purchased land in Carp.
You can view current job opportunities at Wills Transfer on the ChooseCornwall Job Board.
About Wills Transfer Limited
Wills Transfer Limited has been providing innovative logistics solutions in Eastern Ontario since 1945. The company offers world class supply chain services – including warehousing, inventory management, order fulfillment, transportation, and outsourcing solutions. More info can be found on their website: