Winter Visitor Guide Celebrates Outdoor Actives In Cornwall
February 19, 2021
Cornwall Ontario – A new winter tourism guide for Cornwall is now available for those looking to plan an excursion in the future.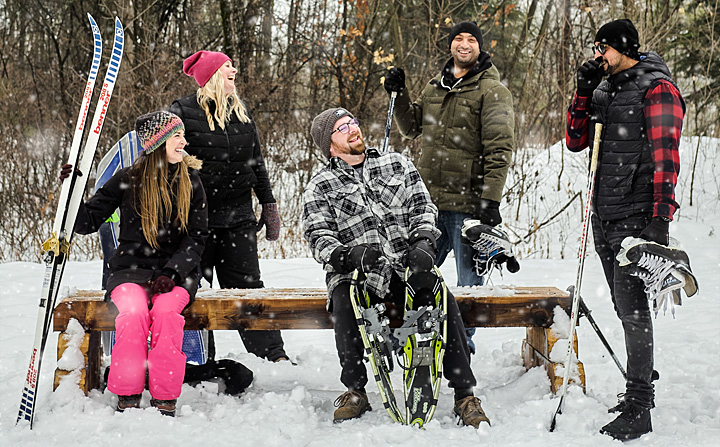 The Explore Cornwall winter guide provides a beautiful collection of images and information about all of the great winter offerings available in Cornwall and area. Readers can learn more about outdoor adventure opportunities, shopping, dining, arts and culture and more.
"The new guide is not meant to encourage gatherings or travel in the present however, it does offer a change of scenery and a dose of optimism for the future," said Kevin Lajoie, Tourism Officer. "We hope local residents will use the guide to become more familiar with all of the great things we have right here in our own backyard. Use it to plan an outing once the time is right or – better yet – share it with out-of-town family and friends and encourage them to make a plan to visit in the future once it is safe to do so."
The pandemic has undoubtedly presented significant challenges for the tourism sector over the past year. However, one positive has been the growing interest on the part of local residents to explore and enjoy their own community. This could be seen with the surge in popularity of cycling in the summer and it continues this winter with the heightened interest in outdoor spaces like Guindon Park, Lamoureux Park and Gray's Creek.
"If we can find any silver lining from the pandemic, it's that many locals were able to discover new activities to do right here at home. The pandemic has made people look closer to home and people are discovering that they can easily have a family fun day or a special date night right here in Cornwall," said Amy Malyon, Tourism Coordinator. "The added benefit of this is that locals are now better versed in what to do in Cornwall should they ever be approach by a tourist in the future."
Distribution of the guide is primarily local and it is not meant to encourage immediate travel and exploring but rather to encourage planning. Residents can browse the guide while deciding on the first thing to do once it is safe to do so.
"Cornwall Tourism fully supports the ongoing public health measures to combat COVID-19 and encourages everyone to continue following public health precautions such as masking, washing your hands regularly, maintaining physical distancing of 6 feet, limiting trips outside your home and staying home if you aren't feeling well,"  says Mr. Lajoie.
The Explore Cornwall winter guide was produced in partnership with Seaway News and it is the first in a new plan to produce bi-annual visitor guides.
"We are thrilled to be sharing it with locals first,"  adds Ms. Malyon.
Electronic copies of the guides (in both English and French) can be found at www.CornwallTourism.com.
Hard copies will be available at Cornwall Tourism Ambassador businesses and dedicated City facilities. A copy can also be requested via our Request Info form.