Witron Donates Equipment to St. Lawrence College
October 3, 2022
Cornwall Ontario – St. Lawrence College (SLC) has received a donation of equipment from Witron to be used in several skilled trades programs to prepare students for careers in automated logistics and manufacturing.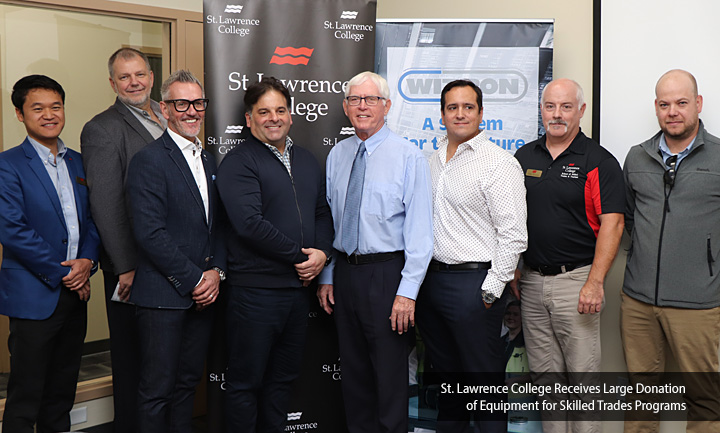 Witron is a worldwide leader in the design of warehouse and logistics systems, and operates a state-of-the-art distribution centre for Loblaw in the Cornwall Business Park. The equipment is valued at $150,000 and this announcement is the first time that Witron has entered a partnership of this kind in Canada.
"In today's high tech and automated environment, technology changes quickly and our goal is to educate our students in the current work environment, and to be prepared for the future," said Daniel Liao, Dean, Applied Science, Technology and Trades at SLC. "We are grateful for the donation of this equipment that helps us provide up-to-date materials and supplies to create the best learning environment for our students."
The equipment will support experiential learning in programs including Mechanical Technician, Industrial Mechanic Millwright, Industrial Electrician, and General Machinist on SLC's Kingston campus. Also, SLC plans to launch a new Mechatronics program in fall 2023, whose students will also benefit from this state-of-the-art equipment. The specialized equipment includes turntables, chain conveyors, barcode scanners, sensors, reflectors, brackets, wiring, frequency controllers, control panels, safety components, and more.
"Witron is thrilled to contribute to these skilled trades programs at St. Lawrence College," said Kenny Arruda, National Maintenance Leader for Canada. "SLC is a leader in hands-on training and education with both their skilled trades and technician/technology programs, both in the community and the province. We are proud to assist in the future education and training to ensure a highly skilled, employable workforce."
That workforce was on display as representatives from the City and College were given a guided tour of one of the world's most advanced distribution centres.
"We are very fortunate to have companies such as Loblaw, Witron, Shopper's Drug Mart and Matrix Logistics in Cornwall," said Mayor Glen Grant. "The technology and expertise is world class, and it is really great to see the companies giving back to the community so that the next generation can build the skill set needed to succeed in their careers."
Witron employs 115 people in Cornwall, and actively recruits from the College's Wind Turbine Technician, Electrical Engineering Technician, and Mechanical Technician programs. Last year, Witron hired 12 SLC graduates.
"On behalf of SLC, I want to thank Witron for this important gift of equipment and supplies for several of our skilled trades programs," said Glenn Vollebregt, SLC President and CEO. "We also thank Witron for supporting our College and hiring our graduates and we look forward to fostering this continued partnership and working together to contribute to our vibrant workforce and community."
Jobs at Witron
Current employment opportunities at Witron and Matrix Logistics can be found on the Choose Cornwall Job Board
About Witron
For more than 50 years, Witron has been developing highly dynamic and innovative logistics and order picking systems for retail and industry. Logistics systems that generate sustainable competitive advantages for our customers. To date, Witron has successfully realized more than 2,000 logistics projects in different business sectors around the world – including at the Loblaw distribution centre in the Cornwall Business Park, which became operational in September 2021.
About St. Lawrence College
St. Lawrence College is situated on the traditional lands of the Anishinaabe and Haudenosaunee peoples; we are grateful to live and learn on these lands. With campuses in Kingston, Brockville, and Cornwall, SLC delivers education and training that meets the needs of community, industry, and employers. The College prepares students to succeed in the global economy through relevant, practical programs and experiential learning opportunities. SLC offers more than 100 full-time programs including diplomas, degrees, graduate certificates, apprenticeships, micro-credentials and life-long learning opportunities. Everyone belongs in the SLC community, comprised of 12,000 full-time students and more than 100,000 alumni in 75 countries around the world.