Workforce Recruitment Efforts in Full Swing
February 28, 2023
Cornwall Ontario – Efforts to help local employers recruit more people are in full swing this year as Cornwall Economic Development attends a number of events locally and beyond.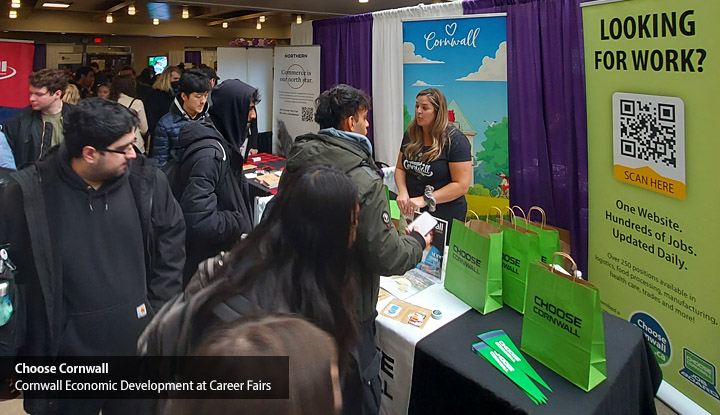 Cornwall Economic Development has plans to exhibit at a number of career and job fairs over the next several weeks, and in the process expects to speak directly to thousands of job seekers.
"Resident attraction and workforce recruitment is a challenge many communities are facing and we have a multi-faceted effort to ensure that Cornwall is front and centre when people are considering moving to a new community," says Bob Peters, Manager with Cornwall Economic Development. "One of the best ways to attract new residents is with the potential of a new job, and most of our major employers are looking to fill positions."
Hundreds of employment opportunities are currently available in the Cornwall region, including new jobs at leading local employers such as Walmart Logistics, Olymel, Leclerc, SigmaPoint,  Cornwall Community Hospital – and the City of Cornwall itself – to name just a few.
Cornwall Economic Development promotes living in working with the ChooseCornwall.ca website and by attending events such as job fairs. One of the key events in 2023 is the Cornwall and Area Job Fair which takes place on March 29 at the Cornwall Civic Complex. Over 40 employers will be on hand to meet job seekers and answer specific questions about current employment opportunities.
"The opportunities are diverse and exist across all sectors," says Mr. Peters. "There are available jobs in logistics, food processing, manufacturing, health care, and the service sector. Positions range from entry level to skilled trades, professionals and management positions."
Jobs in Cornwall
The main purpose of attendees is to gain information on available jobs. Cornwall employment opportunities can be viewed online here:
The job listings are regularly updated and people are encouraged to check back often.
Career Guide
The popular Cornwall Career Guide has been updated and expanded to include more information than ever before. The Career Guide is available at the Cornwall Economic Development Office and at Job Zone d'emploi. It can also be downloaded here:
2023 Job and Career Fairs
February 2 – Western University Career Fair
February 22 – Loyalist College Career Fair
March 3 – Medical Recruitment Summit
March 7 – McMasters Career Fair
March 13 – St. Lawrence College Career Fair (Cornwall)
March 22 – St. Lawrence College Career Fair (Kingston)
March 22 – Smiths Falls Job Fair
March 29 – Cornwall and Area Job Fair
April 1 – St. Lawrence College Open House
April 19 – Salon de l'emploi (Montreal)
May 25-27 – Canadian Paediatric Society Conference
In addition to promoting local employment opportunities, the Cornwall team will also be promoting educational opportunities, immigration support programs, entrepreneurship and new housing developments. There are a number of compelling reasons to move to Cornwall, including an affordable cost of living and some world-class recreational amenities. The average sale price of a house in Cornwall is far less than in Montreal, Ottawa or Toronto, and the cost of electricity is amongst the lowest in Ontario.