Xplornet Looking to Fill 30 New Jobs in Cornwall
May 13, 2019
Cornwall, Ontario – Xplornet will be holding an open house job fair on May 16 in an effort to attract new people for its Cornwall office.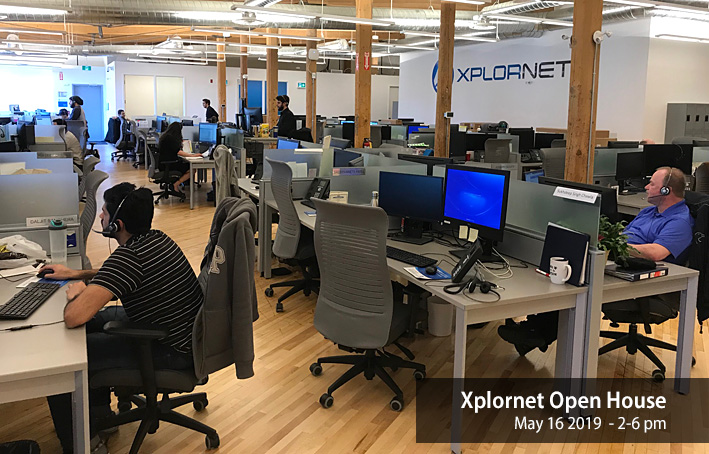 "Xplornet is one of Canada's leading communications companies, but it's our culture that sets us apart," says Sue Corliss, a recruiter with Xplornet. "We're looking for talented, creative individuals who are looking to make a difference in their lives and their communities."
Xplornet is looking to add 30 employees to its Cornwall team, with multiple openings in the following positions:
Inside Sales Specialist
Customer Service Representative
Xplornet is looking to fill 20 positions in June, with an additional 10-15 new employees expected to be hired in July in Inside Sales and Technical Support.
Job postings can be found on the ChooseCornwall.ca Job Board.
"We invite prospective candidates to visit our Cornwall office on May 16 and get a better understanding of what we do." says Ms. Corliss.
The Open House will run from 2:00 pm to 6:00 pm on Thursday May 16th at 709 Cotton Mill Street. Walk-in interviews will be provided, attendees are encourage to bring their resume.
Xplornet Communications provides broadband internet access, applications and accessories to residential and commercial customers in rural markets across Canada. The company has been nationally recognized as an employer of choice by a number of different organizations. In 2017, Xplornet officially opened its regional office in Cornwall's historic Cotton Mill district. The office is staffed with over 120 people and features modern work stations equipped with the latest in communications technology.
Last year, Xplornet announced a new multi-year investment of over $2 million in its Cornwall facility. The project is creating upwards of 130 new jobs and is expected to be completed by January 2022.
Earlier this year, Xplornet announced an investment of $500 million over the next five years to deploy state-of-the-art hybrid fibre wireless technology for rural Canadians.
About Xplornet Communications
Xplornet Communications is one of Canada's leading broadband service providers. For over a decade, Xplornet has been providing innovative broadband solutions to rural customers at work, home and play across Canada. Today, Xplornet offers voice and data communication services through its unique wireless and satellite network that connects Canadians to what matters.