Xplornet Looking to Fill 32 Positions in Cornwall
October 14, 2020
Cornwall Ontario – Xplornet is looking to grow its Cornwall team, and for the first time it will include opportunities to work remotely.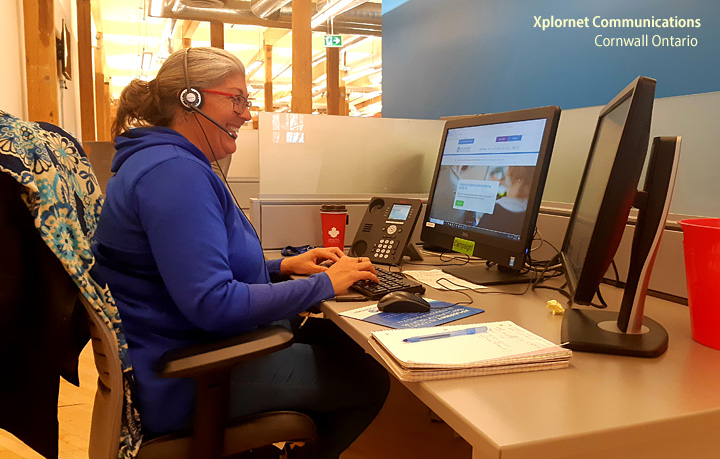 The telecommunications company is looking to fill 32 positions this fall, including a cohort of 20 Virtual Customer Service Representatives.
"It's a good time to work for Xplornet, we are growing and it's a great opportunity for our employees to grow with the company," says Alain Legault, a recruiter with Xplornet. "We are providing an essential service and our employees are guaranteed 40 hours a week."
Virtual Customer Service Representatives will work remotely with other colleagues to help solve challenges experienced by customers. In order to work remotely, Xplornet requires the following criteria:
A dedicated, private home office space and the ability to work a flexible schedule between 7:00am – 1:00am
High-speed internet connection with download speeds of at least 10mbps
The ability to attend daily local on-site training for approximately 11 business days starting November 9, 2020
In addition to the above, Xplornet will also hire 12 customer service representatives with training starting on November 2, 2020.
"We are looking for self-disciplined and innovative individuals with exceptional customer service and technical support skills," says Mr. Legault.
Available Positions
Technical Support Specialist
Customer Service Representative
Virtual Customer Service Representatives
Bilingual Customer Service Representative
Job postings can be found on the ChooseCornwall.ca Job Board.
Xplornet Communications provides broadband internet access, applications and accessories to residential and commercial customers in rural markets across Canada.  In 2017, Xplornet officially opened its regional office in Cornwall's historic Cotton Mill district at 709 Cotton Mill Street. The office features modern work stations equipped with the latest in communications technology. Xplornet currently employs 160 people in Cornwall.
In 2018, Xplornet announced a new multi-year investment of over $2 million in its Cornwall facility. The project created 130 new jobs and is expected to be completed by January 2022.
In 2019, Xplornet announced an investment of $500 million over the next five years to deploy state-of-the-art hybrid fibre wireless technology for rural Canadians.
Earlier this year, Stonepeak Infrastructure Partners acquired the controlling stake in Xplornet, empowering Xplornet to execute its plan of accelerating investment in its national hybrid fibre wireless and satellite broadband network for rural Canadians.
About Xplornet Communications
Xplornet Communications is one of Canada's leading broadband service providers and has been nationally recognized as an employer of choice by a number of different organizations. For over a decade, Xplornet has been providing innovative broadband solutions to rural customers at work, home and play across Canada. Today, Xplornet offers voice and data communication services through its unique wireless and satellite network that connects Canadians to what matters.