Year in Review Meeting Set for December 11
November 22, 2019
Cornwall Ontario – Cornwall's economy is in the spotlight when Team Cornwall hosts the popular Year in Review meeting on Wednesday December 11.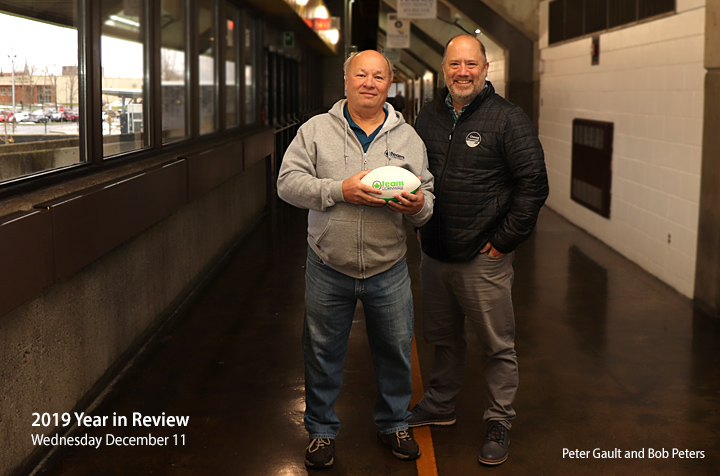 Each year Cornwall Economic Development complies a report of major investments, achievements and other positive events that has taken place over the past year. For the past 22 years, that report is released publicly via a presentation to a gathering of well over 300 businesses and community leaders. Once again the Year in Review meeting will be held at Galaxy Cinemas on Second Street. Doors will open at 7:00 a.m. and the meeting will begin at 7:30 a.m. sharp.
The Year in Review report summarizes major private and public sector development activity that has occurred in Cornwall over the past 12 months.
"We continue to see positive investment activity that is creating employment opportunities in a variety of sectors," said Bob Peters,  Manager of Cornwall Economic Development. "Existing companies are expanding and adding new technology, while at the same time we are welcoming new businesses to the city – both large and small."
Team Cornwall has hosted the meeting since 1998, and although its members make up a large portion of the audience, the meeting is open to all. As always, the meeting is expected to attract a number of special guests from outside the region.
"We live here and yet sometimes we don't notice that this company may have expanded, or that this company is new to the area," says Peter Gault, Chair of Team Cornwall. "Cornwall Economic Development does an excellent job in summarizing the year's best stories in one presentation. Everybody leaves the meeting in such a positive frame of mind. We can then take what we've learned and share it with people beyond the boundaries of Cornwall."
Local Artist and Vendor Bazaar
A bazaar featuring one-of-a-kind gift ideas from over a dozen local artists and vendors will once again tempt attendees as they exit the theatre.  The popular bazaar is organized by the Cornwall Business Enterprise Centre.
Reserve Your Spot!
Tickets to the Year in Review meeting are $20 each. To purchase a ticket, please call 613-938-9400 or drop in to the Cornwall Economic Development office at the Civic Complex. Cash, Visa, Mastercard or Interac are accepted. Tickets can also be purchased online at Eventbrite (an additional fee will apply).
Space is limited to the first 300 people. As this event always sells out, it is recommended to get your tickets early.
About Team Cornwall
Team Cornwall consists of over 400 business and professional people who work to promote Cornwall to their business contacts around the world. Working closely with Cornwall Economic Development, the Chamber of Commerce and other local organizations, Team Cornwall members help spread the word about the considerable advantages of living and doing business in Cornwall.
About Cornwall Economic Development
Cornwall Economic Development is a municipal government department whose primary goal is to assist new and existing businesses locate or expand in the City, with a secondary goal of attracting new residents.  The Department also manages the efforts of Cornwall Tourism, the Cornwall Business Enterprise Centre and the City's community improvement programs.
You can follow Cornwall Economic Development on social media via the following links: