Youth Entrepreneurship in Action Set for March 8
February 10, 2023
Cornwall, Ontario – More than 400 youth across Cornwall, SDG and neighboring communities will come together to explore entrepreneurship at the first Youth Entrepreneurship in Action Event on March 8th.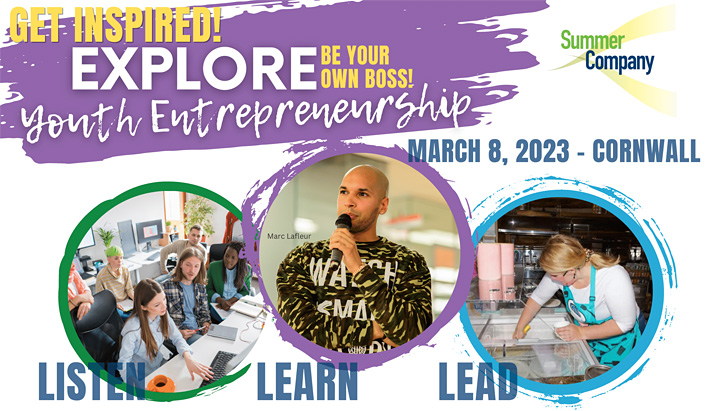 The event will be held at Aultsville Hall will officially open the Cornwall Business Enterprise Centre's popular Summer Company program which encourages young people to start their own business. To inspire all in attendance, local founder and author Marc Lafleur will be sharing his own entrepreneurial journey to motivate young people to launch their own business.
"There are so many talented young people in Cornwall and SDG," says Shauna Baggs, Business Consultant with the Cornwall Business Enterprise Centre. "We are thrilled to be working with Marc and our community partners to further encourage youth in our community to pursue their own entrepreneurial journey, and offer the Centre's support as they further develop their ideas."
Marc Lafleur is an entrepreneur from Cornwall that has been recognized for his business achievement by CBC, the Globe and Mail and most notably Dragon's Den. He took his company TRULOCAL from a start-up to an eventual successful $16.7 million acquisition — all within five years. He recently published a book on entrepreneurship entitled True Founder.
The event is the first of its kind to be held in the region and will be a great opportunity for students to learn about what it takes to become your own boss and the time and commitment to becoming a success entrepreneur. The Cornwall Business Enterprise Centre has also partnered with the Catholic District School Board of Eastern Ontario, St. Lawrence College, and the Eastern Ontario Training Board to encourage young people to take a closer look at entrepreneurship. Over the past decade, the Summer Company program has helped over 75 students start their own small businesses.
"Learning how to run a business is one of the best summer jobs a student can have," says Ms. Baggs. "Summer Company participants get to be their own boss while learning what it takes to manage a business."
Register Now!
The Youth Entrepreneurship in Action Event takes place on March 8th at Aultsville Theatre from 10:00am-Noon.  There is no cost to attend, however pre-registration is required as space is limited. Be sure to register early – before March 6 – to avoid disappointment!
About Summer Company
Summer Company is a program funded by the Government of Ontario to help students with start-up money to kick-off a new summer business. The program includes advice and mentorship from the Cornwall Business Enterprise Centre and local business leaders to help get the business up and running. Sales, marketing, bookkeeping, customer relationship management and networking are just a few of the highly useful skills participants will develop.
Intake is now open for the 2023 Summer Company program. Those interested in applying must complete their applications by May 15th, 2023. There are limited spots available. CBEC encourages those interested to submit applications as early as possible in order to have the best chance of being accepted. More info below:
About the Cornwall Business Enterprise Centre
The Cornwall Business Enterprise Centre helps small business owners and entrepreneurs succeed in Cornwall, Stormont, Dundas, Glengarry & Akwesasne by offering information, tools and support during the start-up and growth stages of business operation. This includes administration of the Summer Company and Starter Company PLUS programs. The Cornwall Business Enterprise Centre is operated by Cornwall Economic Development and funded in part by the Government of Ontario.
The Cornwall Business Enterprise Centre is located at 100 Water Street East (Cornwall Civic Complex) and can be contacted by phone at 613-930-2787 x2276 or online at: