ZipGrow Opens Cornwall Hydroponics Showroom
December 6, 2021
Cornwall Ontario  – Local residents with a green thumb are invited to stop into the new ZipGrow hydroponics showroom and discover a new way of growing.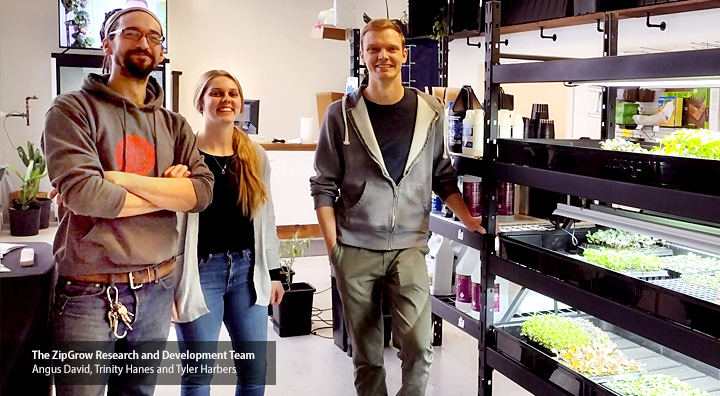 The showroom is located at the company's headquarters on Cumberland Street and ZipGrow staff are available to walk customers through the best options  for small-scale growers, whether that be for a food source, decorative plants or for recreational cultivation. The 900 sf space showcases ZipGrow's own brand of growing equipment and accessories in addition to a variety of hydroponic supplies from reputable partners.
"The pandemic and climate change have given rise to recreational hydroponics and we have seen that not only through sales on our web store but also through questions and conversations on our social channels," says Eric Lang, President of ZipGrow. "We are proud to be a world leader in developing and distributing vertical hydroponic farming systems to hobbyists,
entrepreneurs and educators. We want to encourage continued interest and curiosity by providing this in-person service to residents of Eastern Ontario."
The showroom stocks merchandise for those just getting started, all the way through to fully experienced hydroponic growers. Customers will be able to browse equipment and supplies
such as beginner growing kits, nutrients, seedling stations, lighting and plumbing supplies. In addition, the showroom displays some of ZipGrows' signature systems, including a farm wall
and the newly launched ZipGarden.
The first reported soilless horticulture techniques began in the late 1600s. Since then, the science and techniques associated with hydroponics have exploded; making growing plants without soil sustainable and much more accessible. Hydroponic systems use water up to 90% more efficiently than conventional agricultural practices and its spike in popularity is also attributed to the quality and productivity of the crops produced.
"A large success of our business is from providing free resources and education to growers through our YouTube videos and blog content," says Mr. Lang. "We fully support growers
through their challenges regardless of their previous growing experiences to get them to a place where growing without soil becomes second nature."
Future expansion plans include  a viewing window into the research growing facility where the R & D team trial and test best practices and optimal conditions for true vertical hydroponic growing. This research further supports commercial ag-tech farmers and educational centres who are operating with ZipGrow's unique technology and helps to continue to guide the everyday grower towards success.
The ZipGrow showroom is located at 650 Cumberland Street Cornwall. Hours are 10am to 5pm, Monday to Friday.
About ZipGrow
ZipGrow is an international leader in indoor, vertical farming technology. Its flagship product, the ZipGrow™ Tower, is a core component of many of the world's most innovative farms; from indoor hydroponic warehouses to vertical aquaponic greenhouses and high-density container farms.