Zoho Continues Growth in Canada with new Cornwall Office
September 22, 2022
Cornwall Ontario —  A leading global technology company has established a footprint in Canada with new offices in Cornwall.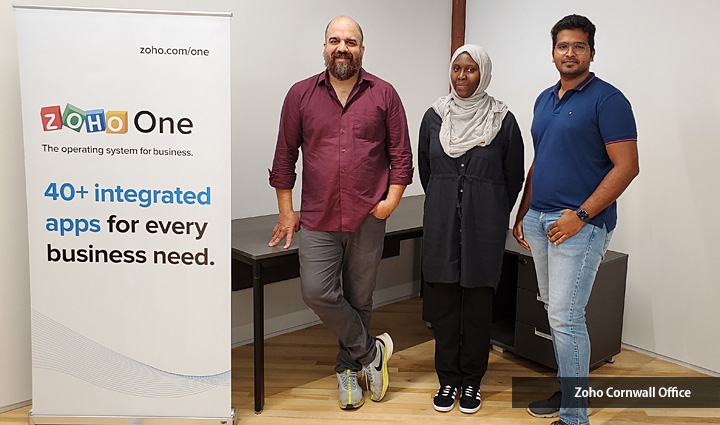 The office for Zoho Corporation will build on Zoho's regional Canadian approach to sales, support, marketing, and partner management—including bilingual sales and marketing—to facilitate a greater regional understanding of the specific needs of local customers, and to create closer relationships with surrounding businesses.
"Zoho has for many years focused on bringing our business into lesser-served communities of the world, including several new offices in India and America, to better understand regional business needs," said Chandrashekar LSP, Zoho's Canadian Managing Director. "Our new office in Cornwall is a continuation of that important goal, and we could not be more excited to build deeper relationships with the businesses in communities small and large across Canada."
With 55+ apps in nearly every major business category, Zoho Corporation is one of the world's most prolific technology companies. Zoho's success in Canada has seen 35% and 15% growth in revenue and customers, respectively, and the company plans to expand the Cornwall office as those numbers rise.
The new Cornwall office is part of Zoho's global Transnational Localism strategy, which was first introduced more than 10 years ago as a means to create self-reliant local communities and economies. Since then, the initiative has grown to include new global offices, local hiring, partnerships with local organizations and government bodies to lower the technology adoption barrier for businesses, upskilling courses in association with educational institutes, language localization including RTL support for languages, and local pricing for several countries.
The office is located in the historic Cotton Mill District along the banks of the St. Lawrence River and will form part of the Transnational Localism hub-and-spoke model, with larger offices serving as a hub to several dozen small spoke offices located in rural areas and towns around the world. This method of growth allows employees, like those in Cornwall, to stay in their hometowns and contribute to their local community while working for a leading, globally recognized technology company.
In the last two years, Zoho has opened 59 hub-and-spoke offices, improving access to both software and localized Zoho support. In addition to aggressive expansion into new territories and markets, including Canada, Latin America, the Middle East, Africa, and Southeast Asia, Zoho has announced plans to add 100 new small-scale offices in rural districts across India in the next few years.
Jobs at Zoho
Current employment opportunities at Zoho can be found on the Choose Cornwall Job Board
About Zoho
Headquartered in Austin, Texas, with international headquarters in Chennai, India, Zoho is privately held and profitable with nearly 11,000 employees. Zoho respects user privacy and does not have an ad-revenue model in any part of its business, including its free products. More than 80 million users around the world, across hundreds of thousands of companies, rely on Zoho everyday to run their businesses, including Zoho itself. For more information, please visit: www.zoho.com/