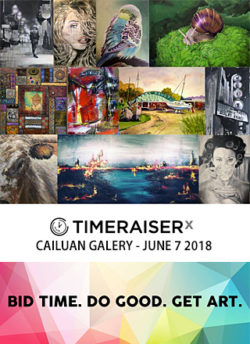 Bid Time not Money on Art at TimeraiserX
June 6, 2018
Cornwall Ontario – Looking to support a good cause… and pick up some great art at the same time?
Cornwall's first ever TimeraiserX event will be held at Cailuan Gallery on June 7th, 2018 from 7pm to 10pm. The event will feature an auction of artworks, exect in this model, you bid your time instead of money.
"Cailuan Gallery is excited to host Cornwall's first TimeraiserX event," says Tracy Lynn Davies of Cailuan Gallery. "It's going to be an amazing evening of art and networking. Don't miss this opportunity to support local artists and be a part of this party for social good."
Organizers of TimeraiserX are pulling out all the stops to throw a great party –  from live performances to delicious local food and drink. The auction-style party will showcase the best up-and-coming emerging artists from Cornwall, Akwesasne, and the Counties of Stormont, Dundas and Glengarry and give a chance to connect with local charities, all while eating, dancing and bidding for art with volunteer hours.
"We offer TimeraiserX attendees the opportunity to earn a piece of artwork by volunteering in their community" says organizer Kelly Bergeron. "TimeraiserX art winners are not only proud new arts patrons, but they also benefit from volunteering and contributing to social causes they care about."
TimeraiserX values the work of emerging Canadian artists by paying fair market value, set by the artist, for every artwork we auction. Bid time, not money, on art at this TimeraiserX party. Up to 100 volunteer hours over a year can be donated to one or more nonprofit organizations of your choice.
TimeraiserX parties offer nonprofit organizations a unique way to meet talented new volunteers and to promote their good work to a wider audience of supporters.
Tickets cost $40. Grab your tickets now at timeraiserx.eventbrite.com. Visit the event page for more info: https://www.facebook.com/events/395506924243629/
About Timeraiser / Framework Foundation
Since 2003, the Framework Foundation/Timeraiser has worked to expand the capacity of thousands of nonprofit organizations by creatively connecting people to causes and causes to people. Through innovative programming Timeraiser has delivered tangible results to artists, volunteers, nonprofit organizations and corporate sponsors and partners. timeraiser.ca
Categorised in: Arts and Entertainment, General