Cornwall Makes Top Ten in List of Best Communities to Live
April 9, 2021
Cornwall Ontario – Cornwall has cracked the top 10 in a list of Best Communities in Canada compiled by Maclean's magazine.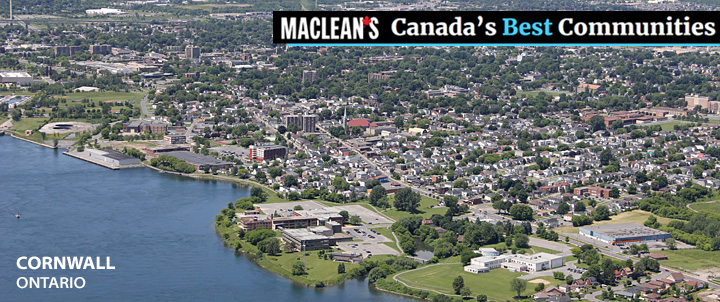 The magazine has ranked Cornwall as #8 on its 2021 list which reviewed 415 communities from coast to coast. In a previous effort in 2019, Cornwall ranked #123.
"It is nice that Maclean's has recognized something that people here have known for a long time – Cornwall is a great place to live!" says Mayor Bernadette Clement. "Our growing community is beautiful and friendly. You'll find everything you need to enjoy an exceptional quality of life."
The question of where to live when you can work from anywhere was the focus of this year's list, which Maclean's is calling its "post-pandemic" version of their Best Communities ranking. Using data provided by Environics Analytics and the Canadian Internet Registration Authority (CIRA), as well as publicly available figures from a variety of sources, the magazine weighted a range of categories based on how important each would be to the average person and ranked each municipality accordingly.
The 2021 ranking, like past ones, considers a number of factors, including housing affordability, population growth, taxes, crime, weather, access to health care, amenities and community engagement. The post-pandemic version, however, eliminates incomes and unemployment rates (since remote workers don't need to look for a local job); distance to post-secondary institutions (since remote education was expanded and refined during the pandemic); and commuting methods. Because it's impossible to work from home without a reliable internet connection, the report's authors also added a new category rating broadband performance based on data from CIRA that has never before been released to the public.
Moving to Cornwall
Cornwall is a full-service city with a small town feel, where everything is just minutes away from your front door and new opportunities wait around every corner! It is an affordable place to live in Ontario, and a great place to raise a family. You can learn more in the Living section of this website.
Remote Work
As technology brings the world closer together, more and more people are choosing to work outside of the traditional workplace. Cornwall is ideally situated for remote workers, offering affordable housing, a robust fibre-optic infrastructure and short travel times to the big city if you need to attend meetings. Working out of your home office allows you to enjoy the urban amenities of Cornwall such as going for a jog along the Waterfront Trail or take a break at one of our many cafés and bistros. Click here to learn more.
Jobs in Cornwall
There are hundreds of jobs currently available in Cornwall from a wide variety of employers, ranging from entry-level positions to management. You can view current job postings and download a career guide on the Choose Cornwall Job Board.
New Resident Welcome Kit
Cornwall Economic Development offers a free Welcome Kit for new residents that provides a number of magazines, brochures and maps to help them people get settled. You can request a Welcome Kit via the Request Information form.
Categorised in: Arts and Entertainment, Business, Community, Environment, General, News, Sports