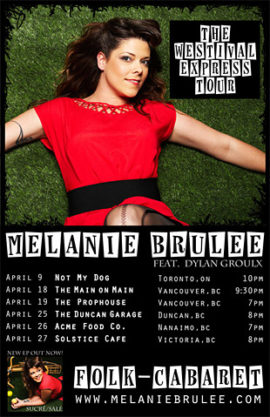 Cornwall Music Duo Heading Out on Westival Express
April 12, 2013
Cornwall Ontario – One of Cornwall's favourite daughters is embarking on a unique western tour to showcase her music, and she's bringing along another Cornwall guitar player to help.
Melanie Brulée and Dylan Groulx will board a VIA Train in Toronto headed for Vancouver. The train leaves this Saturday April 13th.
While on board, the duo will play for 4 days (3 sets per day) from Toronto to Vancouver with 2 lounge performances – 1 in Winnipeg and 1 in Jasper. They will play 5 shows in BC and then board the train for the return trip – and more performances.
"It will be a unique experience playing on the train," said Melanie. "It will be very intimate and we look forward to meeting new people on the journey. If anyone has ever thought about taking the train across the country, we'd love for them to join us!"
Melanie Brulée grew up in Cornwall and describes her music as "folk-pop-cabaret." After spending sometime in Australia, she released an album with her band The General Electryk in 2011 before embarking on a solo career. She has been busy of late writing a raft of new songs, singing with a gritty country group called the Ole Fashion and working at a Toronto music industry publicity company. She is also a founding member of a hot new all-female independent collective called Ladies In Waiting.
Melanie and Dylan are calling their VIA tour the "Westival Express". It takes place on the legendary "Canadian" train,  that links Toronto and Vancouver with one of the world's most popular longhaul journeys. This train has inspired decades of fond memories for more than 100,000 travellers every year.
Melanie and Dylan will also be busy during their layover in British Columbia – they play gigs in Victoria, Vancouver, Nanaimo and Duncan. They will celebrate their return with a performance in Cornwall at Schnitzel's on May 24.
Earlier this year, she released a solo EP Sucré/Salé which showcases her sassy-and-sweet bilingual mix of styles, influenced by Edith Piaf, Feist, Eartha Kitt, Martha Wainwright and Stevie Nicks. Melanie will be promoting the EP, along with General Electryk's Petty Little Things, now available on vinyl.
You can watch a video of Melanie (also featuring Dylan Groulx) here:
Categorised in: Arts and Entertainment, General, News