29th Annual River Symposium Set For October 26 and 27
October 6, 2022
Cornwall Ontario –  The River Institute is pleased to host the 29th Annual River Symposium on October 26th & 27th, 2022.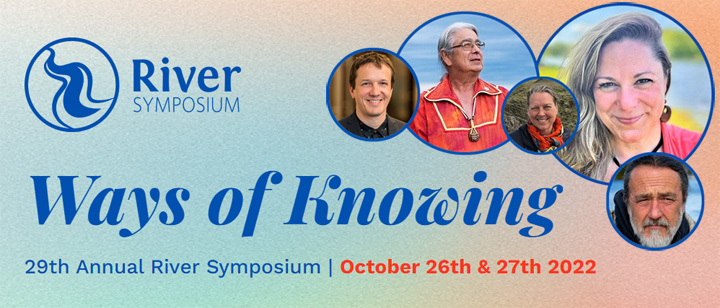 To encourage participation and access for everyone, this year's symposium will include an in-person day on October 26th at the Ramada Inn in Cornwall, which will also be live streamed to virtual audiences, and a virtual day on October 27th.
This year's theme is Ways of Knowing. Through presentations and discussions, participants will benefit from the perspectives and inspiration of a variety of voices, including those of Indigenous knowledge holders, artists, scientists, and community members. In keeping with the theme, the two-day symposium will bring together science and community in a unified format that covers a range of topics and acknowledges all ways of knowing.
The in-person day (October 26th) will include presentations and discussion by a diverse group of contributors. Session titles include:
It's All Connected – Part 1, At the Cutting Edge
Nature Narratives, and Linking the Micro and Macro
Guest speakers include Henry Lickers (International Joint Commission), Jerome Marty (International Association of Great Lakes Research), and Jean-Louis Courteau (an experienced diver and accomplished painter)
October 27th is designated as the virtual day. Online session titles include:
Diving into Citizen Science, It's All Connected – Part 2
Responding to Change
Inspiring the Next Generation
Guest speakers include Jessica Jock (Saint Regis Mohawk Tribe) and Dr. Kathleen Vaughan (Concordia University).
Registration
Everyone is welcome to participate in this FREE event! Participants looking to attend in-person are encouraged to register soon, as spaces are filling up. Registration deadline for in-person is on the October 14, 2022. Please register by visiting:
About the River Institute
The River Institute was established in 1994 as a unique community partnership involving government, education, business and industry, and the Mohawks of Akwesasne. Its mandate is to conduct environmental research, education, and outreach with a focus on the Great Lakes / St. Lawrence River ecosystem. The River Symposium provides a platform for researchers, educators, policy-makers, community leaders, and citizens to discuss the current ecological health of our freshwater ecosystems and explore issues and challenges facing large rivers and their watersheds. This sharing of knowledge is a powerful driver of change, leading to a better understanding of freshwater resources and ecosystems,
as well as the development of strategies for renewal and protection.
Categorised in: Arts and Entertainment, Business, Community, Environment, General, News