70 Artists in 2018 Apples and Art Studio Tour
September 25, 2018
Cornwall Ontario – For the  past 27 years, area artists have welcomed in the fall season by opening the doors to their studios and sharing their art and talent with people from across the region.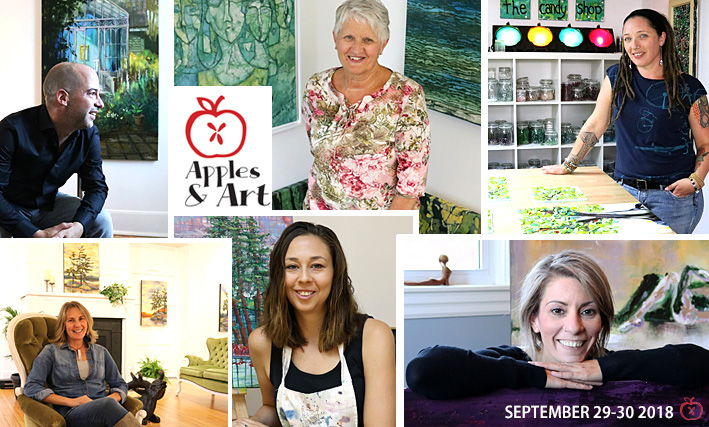 This year, the Apples & Art Studio Tour returns with 70 artists spread out over 21 locations in Cornwall and SDG.
"There is no better time to see the countryside, visit studios where artists display their work and find out why they chose to express themselves with this medium," says Virginia Lake. "We have new artists on the tour this year, along with tour veterans who have grown in their talent and expanded their modes of expression."
Each artist will not only have art on display, but for sale as well. The tour is a great opportunity to find that perfect piece for  yourself, or for a lucky friend or family member. gift or home.
For the first time the tour will also feature emerging young artists as two local high schools, CCVS and Tagwi, will showcase their art, drama and music departments.
The tour runs Saturday, September 29th and Sunday, September 30 from 10 am to 4 pm both days.
In addition to discovering amazing artwork, it's also a chance to discover some amazing local businesses and establishments. Rurban Brewing, Cailuan Gallery, Cline House Gallery and The Stomping Grounds Bistro are just some of the participating locations on this year's tour.
2018 Studios and Artists
Elsie Gallinger Studio
Shauna Lea Baggs Studio

Shauna Lea Baggs Acrylic – Mixed-Media

Tagwi Secondary School

Student Art, Theatre, Music & Events
Textiles

Rurban Brewery

Erynn Doherty Acrylic – Photography
Tracy Emond Oil – Charcoal – Graphite – Pastel
Candice Nixon Glass

Love Yoga

Paula McDermid Acrylic – Beads

Cailuan Gallery

Diane Bergeron Mixed Media – Acrylic
Libby Cameron Pastel – Pen & Ink – Watercolour – Acrylic – Mixed Media
Marc Carriere Stained Glass – Oil – Acrylic
Helen & Bernard Carrière Photography
Tracy Davies Mixed Media
Beatrice Dumbreck Watercolour – Acrylic -Oil – Sculpture
Wilma Erickson Acrylic – Mixed Media
Mandy Prevost Mixed Media
Sandra Taylor-Hedges Oil – Acrylic – Mixed Media

125 Pitt Studios

Elaine Arkwright Batik
Rose Desnoyers Oil – Watercolour
Linda Geisel Oil – Acrylic
Carole Jeghers Expressionist
Sylvie Labrecque Colour Pencils – Acrylic
Laura Leah Lindeman Acrylic
Marleene McWilliam Tempra – Watercolour -Acrylic
Louise Mignault Oil – Batik
Ken Muir Acrylic
Kathleen Morin Acrylic

Cornwall Public Library
Jane Macmillan Originals

Jane Macmillan Watercolour – Pen & Ink

Cline House Gallery / OBO Studios

Margot Boucher Watercolour – Acrylic
MiSun Kim-Hunter Acrylic
Tracy-Lynn Chisholm Oil – Acrylic
Hye Kyung Yu Acrylic
Emily MacLeod Oil – Mixed-Media
Shari Smelko Oil
Heather J Smith Mosaics – Jewelery
Anne Wyleman – Acrylic

Deborah Kerr Studio
Clo's Art Studio

Claudette Pilon Acrylic – Oil

Stomping Grounds Bistro

Pierre Giroux Oil – Watercolour – Mixed Media

Aultsville Hall Foyer

Ken Monk Watercolour
Betty Anne Greenhalgh-Bard Watercolour -Oil – Acrylic – Encaustic – Alcohol Ink
Marilyn Grignon Watercolour – Acrylic
Bev Leroux Acrylic
Norma O'Collin Oil
Linda Lou Phillips Watercolour – Pencil -Acrylic
Marcel Quesnel Oil
Anne Wotherspoon Acrylic

Image-ine Studio

Jacqueline Milner Photography – Acrylic -Mixed Media – Functional Art

Cynthia Gatien Studio

Deirdre Cuggy Acrylic
Cynthia Gatien Acrylic

Margaret Brown Studio

Margaret Brown Pottery – Clay

Millinery at Cornerstone Farm

Mitch Corriveau Natural Fibres – Felting – Needlework

Studio Jano

Jeanne Bougie-Desjardins Acrylic
Darleen Varley Watercolour
Francois Desjardins Photography

Priest's Mill Art Centre

Edwina Billyk Clay & Paint
Eric Covington Glass
Brett Desrosiers Macramé – Wall & Jewelery Art
Taliah Fast Watercolour – Pen
Glenna Fowlie Pastel – Acrylic
Gillian Horgan Photographs – Film
Susan Irving Acrylic – Watercolour -Mixed Media
Sherry Lamb-Heinzle Colour Pencil
Staecy Lauzon Fluid Paint – Paintings
Kim Little Heritage Needlework – Dressmaking
Crystal Loke Fused Glass
Jenny McDonald Leaves
Brenda Sutton Mader Clay – Pottery
Margaret Szlachcinska Oil – Acrylic
Erica Taylor Sculpture – Mixed Media

Helen Karanika Studio

Helen Karanika Acrylic – Crayon – Charcoal -Pastel – Oilstick – Collage
About Apples & Art Studio Tour
Held during the last weekend of September, the Apples & Art Studio Tour provides a collective venue for artists up their studio space to the community and visitors, encouraging them to find out more about the arts through discussion about the work, their processes and through various hands on demonstrations that would take place during the tour.
The Apples & Art Studio Tour was the recipient of the Business Excellence Award for Tourism by the Cornwall Chamber of Commerce in 2016. Last year's tour saw 3,600 studio visits and $40,000 worth of art sold during the two-day event.
The tour is organized by a group of artists working with Your Arts Council.
For additional details on studio locations and participating artists, please visit the Apples and Art Tour online:
Categorised in: Arts and Entertainment, Business, General, News