Akwesasne International Powwow on this Weekend
September 5, 2018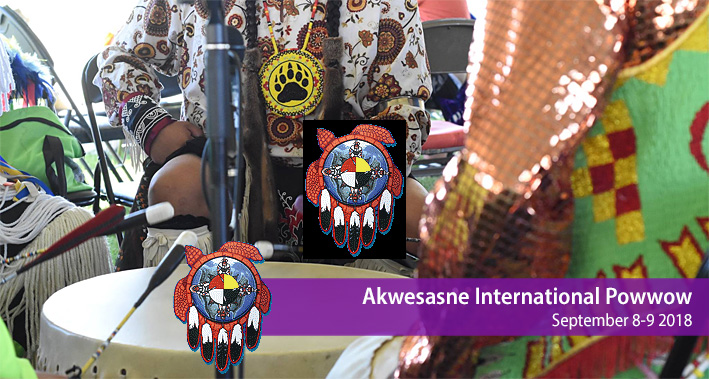 The Akwesasne International Powwow returns on Saturday, September 8th and Sunday, September 9th to the A'nowara'ko:wa Arena on Cornwall Island.
Held on the shores of the St. Lawrence River directly across from Cornwall, this two-day event brings together the best Native artisans, drummers and dancers from the region for a celebration of dance, food, music and culture.
Competitions are held for all age groups in traditional dances such as Smoke, Grass and Jingle dances. The two-day event also includes traditional native foods and a wide variety of authentic native arts, crafts and jewellery.
Enjoy and take part in the 'fastest dance on two feet', with our Iroquois Smoke Dancers. This dance got its name back when the people would dance around the fire pit causing air to circulate, and thus helping the fire embers ignite.
The gates open to the public at 10:00 a.m. on Saturday and Sunday and the festivities start with a spectacular grand entry at noon with all the beautifully dressed dancers. You will have an opportunity to purchase some home made Native food and enjoy a cool strawberry drink or lemonade, while you browse through the vendors area to find that one of a kind keepsake.
Free Shuttle
The Akwesasne Powwow Committee is offering a free shuttle to the event from Cornwall, to be supplied by Cornwall Transit.  Hop on at the WalMart parking lot bus stop or Aquatic Centre bus stop and hop off at the A'nowara'ko:wa Arena. Don't forget to bring appropriate identification for the return trip to Cornwall through the Port of Entry.
For the shuttle schedule, please click here.
Admission
General admission to the Akwesasne International Powwow is $8, $5 for children ages 6-12 and free for children under 5 and seniors 65+. A weekend pass is also available for $12. Parking at the arena grounds is free.
Additional Information
For more information on the Akwesasne International Powwow, please visit:
Looking for other fun things to do in Cornwall? Make sure to check out Cornwall Tourism for info on upcoming events in the area!
Categorised in: Arts and Entertainment, Community, General, News