Apples and Art Studio Tour Returns
September 25, 2019
Cornwall Ontario – The arrival of fall ushers in one of the area's most colourful events – the Apples and Art Studio Tour.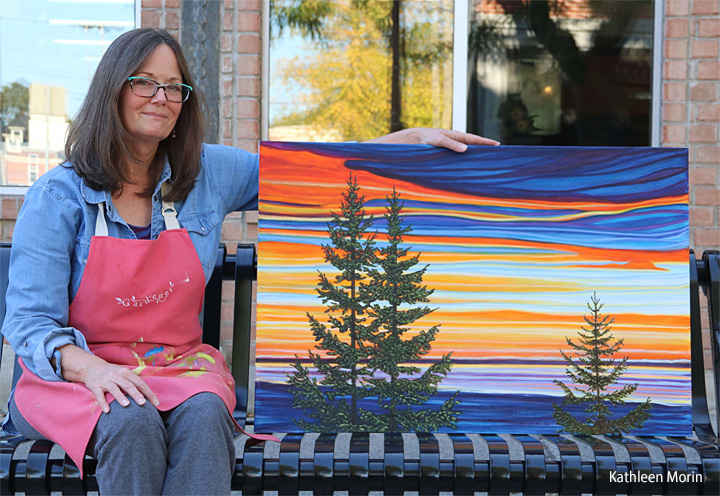 Held over the weekend of Saturday, September 28th and Sunday, September 29th, Apples and Art sees dozen of local artists opening their creative spaces to visitors.
Last year's event featured 72 artists at 21 different locations throughout the region. The 2019 tour promises even more to discover, with more than 80 artists – some fresh new faces and long-time favourites – participating in 33 locations throughout Cornwall and SDG Counties.
"The goal of the tour is to give residents and visitors a chance to enjoy art in the spaces where it is actually created," said Virginia Lake, one of the event organizers. "It's a chance to meet the artists, to chat, to see their work in a natural setting and enjoy the wellness of visual beauty and friendly company."
Tourgoers will discover artists who work in a variety of mediums including paint, ink, clay, fine stones, wood and glass to create original pieces of art.
For the second straight year, the tour will feature presentations by local high school students from CCVS at the Cornwall Public Library and Tagwi Secondary School in Avonmore. The local artists love supporting these young budding artists to express there creative talents and have a fun weekend.
In addition to discover amazing artwork, the tour provides a chance to explore some amazing businesses and art galleries in the community. Some of the participating sites in Cornwall include Rurban Brewing, Cailuan Gallery, Cline House Gallery, 125 Pitt Studios and The Stomping Grounds Bistro.
About Apples & Art Studio Tour
Held during the last weekend of September, the Apples & Art Studio Tour provides a collective venue for artists up their studio space to the community and visitors, encouraging them to find out more about the arts through discussion about the work, their processes and through various hands on demonstrations that would take place during the tour.
The tour is organized by a group of artists working with Your Arts Council.
For additional details on studio locations and participating artists, please visit the Apples and Art Tour online:
More Events
The above article was originally posted on CornwallTourism.com. Check out their website for the latest in events and tourism news.
Categorised in: Arts and Entertainment, Business, Community, General, News