Art Walk Returns to Downtown Cornwall
August 25, 2021
Cornwall Ontario – Downtown Cornwall will become an outdoor arts district with the next edition of Cornwall Art Walk. Enjoy live music, artists, artisans and street performers – along with some great dining and shopping – on Friday, August 27th from 4 pm to 8 pm.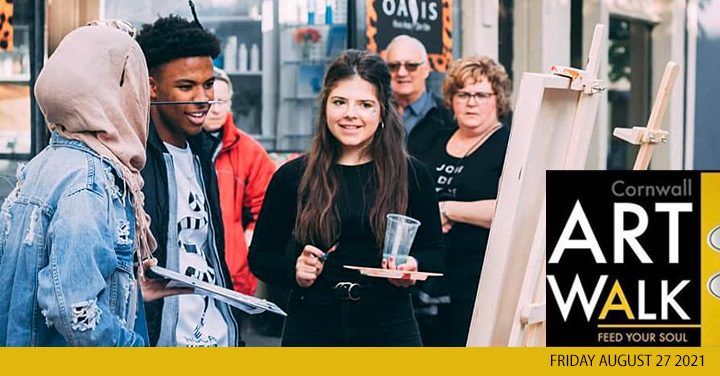 Art Walk is typically held on the last Friday of each month during the summer however the pandemic curtailed earlier editions this summer. Roughly 40 artists and vendors will be set up and spread out along the street and they will be joined by live entertainment and performances on three stages.
"We're hoping this will be the biggest and best Art Walk yet," said Mandy Prevost, a participating artist and organizer of the event.
During the event, Pitt Street will be closed to vehicles and open to pedestrians from Second Street to the Cornwall Square entrance, with Art Walk running all the way to the Historic SDG Jail at Water Street.
Here's a quick guide of what to see and do at Art Walk!
Visual Artists & Artisans
More than three dozen artists and artisans will be showcasing their creations during the event, with many creating new pieces on the fly. Watch these talented artists combine talent and skill to create new works!
Live Music
Take in the sounds of local musicians on the two Art Walk stages!
Pommier Stage (Pitt and Second streets)
4pm – 4:45pm – The Glengarry Ramblers
5pm – 5:45pm – The Lone Wolf and Spaghetti Corner Band
6pm – 6:45pm – Katie Ditschun
7pm – 7:45pm – Mena Hardy
First Street Stage (Pitt and First streets)
4pm – 4:45pm – Castles
5pm – 5:45pm – Jamie Heath
6pm – 6:45pm – Switchgear
7pm – 7:45pm – The Kenny Holland Band
Art Walk Performing Arts
Experience live performing artists at the Historic SDG Jail.
Historic SDG Jail (Pitt and Water streets)
4pm – 4:30 pm – Cam MacPhee
4:30pm – 5:30pm – Acting Out with Miss D! (drama with youth and teens)
5:40pm – 6:15pm – Dancing with Magoo Cook
6:15pm – 6:30pm – Historical story from the Jail with Miss D
6:30pm – 7:30pm – Family Improv Jam Competition
7:30pm – 8pm – Musical stylings of George Lucena
Shop and Dine!
While checking out Art Walk, make sure to save some time to shop and dine Downtown. A number of shops will be extending their hours for the event and Downtown Cornwall's amazing restaurant scene will be ready to welcome you.
Here's some suggestions to get you started:
Also make sure to stop by the Cornwall Tourism booth near the pop-ups for some cool Cornwall information and freebies. You can also lend your talents and contribute to some communal picnic table painting projects!
More Info
More info can be found on the Art Walk Facebook page:
Categorised in: Arts and Entertainment, Business, Community, General, News