Art Walk Returns to Downtown Cornwall
May 21, 2019
Cornwall Ontario – A visit to Downtown Cornwall offers a chance to enjoy some amazing businesses and restaurants. This Friday night, it will also offer a chance to get an up-close look at Cornwall's burgeoning arts scene.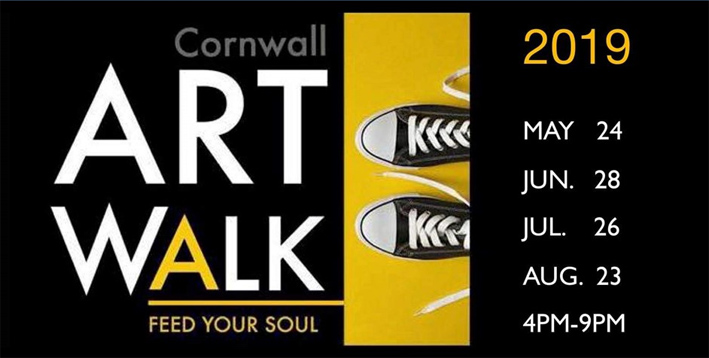 The Cornwall Art Walk returns for its first night of the summer season, with dozens of artists taking up residence in and around Downtown businesses to showcase their creative efforts.
Visual artists will be on hand painting or drawing during the evening, giving visitors a chance to see art in the making and get insight from the artists themselves. There will also be drama and improv sessions and live music from performing artists at numerous venues along the way.
"It's a chance to meet our artists and see their work up close while also discovering some amazing shops and restaurants in our Downtown," said artist Linda Geisel, one of the organizers.
The event runs from 4 pm to 9 pm and a number of businesses will be extending their hours or offering special sales on Friday evening to coincide with Art Walk. It's a perfect time to enjoy a meal or do some shopping while exploring art!
It marks the second year for the Cornwall Art Walk, and organizers are expecting the event to continue to grow in popularity in year two.
"The arts scene in Cornwall and area is gaining more attention and this is another way for us to showcase all of the collective talent and creativity that we have," adds Mrs. Geisel.
The event will be held on the last Friday of each month, with other Art Walks planned on June 28th, July 26th and August 23rd.
Art Walk locations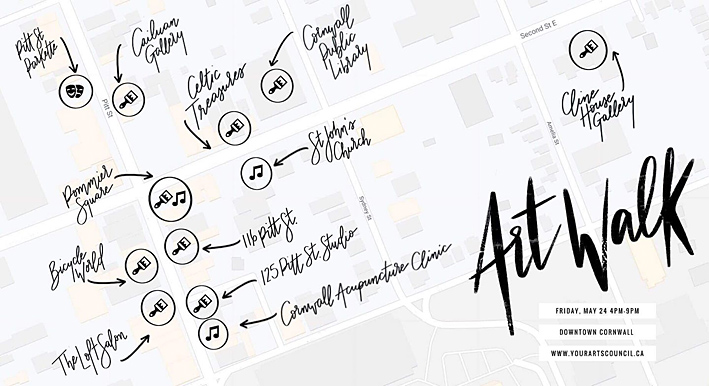 The locations and participants for the May 24th Art Walk include:
Cline House Gallery (204 Second Street East)

OBO Studios' 7th annual Group Show (a 25-artist exhibition)

Cornwall Public Library (45 Second Street East)

Jaqueline Milner
Marc Carriere

Celtic Treasures (17 1/2 Second Street East)
St. John's Presbyterian Church (28 Second Street East)

Musicians Lyric and Lore (performing on church steps, bring a lawn chair and enjoy the outdoor concert!)

Pommier Square (Corner of Pitt and Second Streets)

Focus Art artists exhibition
Sax player Francisco Rugama

Bicycle World (150 Pitt Street)

Virginia Lake (from 125 Pitt Street Studio)

The Loft Salon (130 Pitt Street)

Laura Lindeman (from 125 Pitt Street Studio)

125 Pitt Street Studio (125 Pitt Street, second level)

Resident artists (14 on site or with work on display)
Janet Duffy-St. Pierre (free massage)

Cornwall Acupuncture Clinic (123 Pitt Street)

Music by Glengarry Ramblers

116 Pitt Street

Sylvie Labrecque (from 125 Pitt Street Studio)

Cailuan Gallery (225 Pitt Street)

Tracy Davies
Many Prevost
Libby Cameron
Veronique Lalonde
Henna tattoos by Anyfa ($5 and up)

Pitt Street Parkette (across from Cailuan Gallery)

Drama/improv by Brett Desrosiers, Richard Salem and Paul Aubin
About Cornwall Art Walk
Cornwall Art Walk pairs local artists with Downtown businesses giving visitors the opportunity to view artists painting or performing while visiting the Downtown area each 4th Friday in May, June, July & August, 4 – 9 p.m. Follow the Art Walk flags. The inaugural event was held in 2018. More information can be found online:
Categorised in: Arts and Entertainment, Business, Community, General, News