Art Workshops Return to the Cline House
May 9, 2022
Cornwall Ontario – Local artists looking to try something new will now be able to sign up for new workshops and open studio sessions at the Cline House.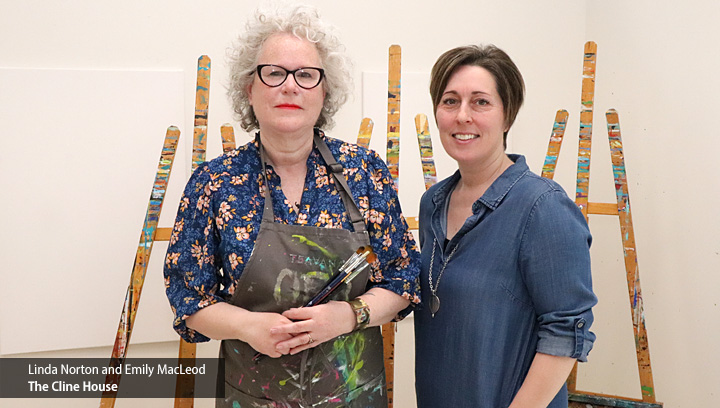 Over 20 workshops are to take place each year and will complement planned Open Studio sessions where artists of all ages can book an easel.
"Workshops provide an opportunity for people to learn from an experienced artist and try a technique or style that may not be in their comfort zone," says Emily MacLeod, Visual Arts Coordinator with the City of Cornwall. "The workshops are open to anyone, including people who have never picked up a brush as well as experienced artists. Seeing a dozen people painting together is kind of special – everyone loves the experience."
Workshops
The first workshop is planned for May 28. Workshops typically are 3-4 hours in duration and participants are provided with all of the materials necessary to complete the project.
May 28: Mystical Methods in Watercolour with Linda Norton
June 6: Tulip Dance Acrylic Painting Workshop
June 11-12: Let it Glow! Acrylic Glazing Workshop (two day workshop)
Open Studio
In addition to the workshops, the Cline House will also be offering local artists the chance to book an easel in the Open Studio sessions. Artists bring their own materials and work at their own pace on their own projects.  Open Studio sessions are booked in 3 hour blocks, starting May 26.
"Our Open Studio sessions offer artists the chance to work on their own projects, yet still have the social interaction – and inspiration – by being around other artists in a studio environment," says Ms. MacLeod.
Registration
Workshops and Open Studio sessions via the City of Cornwall's PerfectMind booking portal.
This new initiative is funded through the generosity and support of an anonymous donation in partnership with the City of Cornwall.
Gallery
The first exhibition this year will be Vantage Points which will run from May 19 to July 2. The exhibition will feature the work of six accomplished artists. Visiting the Gallery is free. Parking is available.
About the Cline House
The historic Cline House was built in 1854 and has served as a family residence, library, framing studio, tea room and art gallery.  The Cline House reopened in May 2022 to once again provide gallery space to showcase local and visiting artists as well as supporting visual arts programming opportunities for those who want to discover their own artistic talent.
Categorised in: Arts and Entertainment, Business, Community, General, News