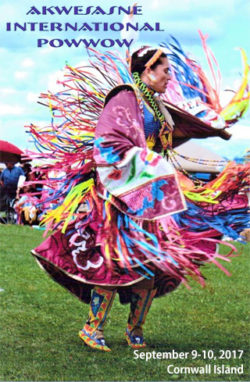 Akwesasne Powwow Kicks Off September 9-10
September 7, 2017
Cornwall Ontario – The Akwesasne International Powwow once again promises to be a highlight of the year. The annual cultural event, traditionally scheduled for the weekend following Labor Day, will be held on September 9-10.
This year's powwow represents the 17th consecutive year the event has been held!
A great cultural experience, the Akwesasne International Powwow features traditional native drumming, singing and dancing. Competitions are held for all age groups in traditional dances such as Smoke, Grass and Jingle dances. The two-day event also includes traditional native foods and a wide variety of authentic native arts, crafts and jewellery.
The entire event is held at the A'nowara'ko:wa Arena on Cornwall Island, along the shores of the majestic St. Lawrence River.
The Akwesasne International Powwow allows people from across Canada and the United States to learn about the First Nations and participate in this great cultural experience.
Enjoy and join a smoke dance which known as the 'fastest dance on two feet'. This dance got its name back when the people would dance around the fire pit causing air to circulate, and thus helping the fire embers ignite.
Special guests include Whakatõpü Kotahi, a Kapa Haka dance troupe that will honour Maori culture.
Gates open to the public at 10:00 a.m. on Saturday and Sunday and the festivities start with a spectacular grand entry at noon with all the beautifully dressed dancers. Visitors will have an opportunity to purchase some home made Native food and enjoy a cool strawberry drink or lemonade, while you browse through the vendors area to find that one of a kind keepsake.
Free Transit
The Powwow takes place just minutes from Downtown Cornwall on Cornwall Island.
Cornwall Transit will be offering free rides to the Powwow on Saturday, September 9th and Sunday, September 10th.
There will be departures from the bus stops at the Aquatic Centre as well as at Walmart at various times both days. Riders are asked to bring proper identification with them.
This is the first time that Cornwall Transit partners to offer free rides to the Powwow," said Transit Manager Len Tapp. "We are pleased to support this great regional event."
Tickets
Daily general admission is $8 and $5 for children ages 6-12.
Admission is free for those under 5 and 65+.
A weekend pass is also available for $12.
More Information
For more information on the Powwow, please visit:
Categorised in: Arts and Entertainment