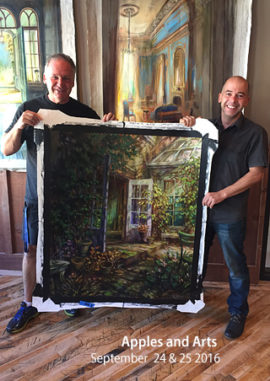 Apples and Art – 25 Years of Celebrating the Arts
September 24, 2016
Cornwall Ontario – The arrival of fall is one of the most colourful events of the year in The Cornwall and Counties. The season dresses in its most vibrant hues while local artists open their creative space to visitors.
This year, more than 60 artists are showcasing their art in 26 different locations throughout the region during the Apples and Art Studio Tour.
"The goal of the tour is to give the residents and visitors of Cornwall and area an opportunity to enjoy art in the spaces where it is actually created," says Virginia Lake. "It is a chance to meet the artists, to chat, to see their work in a natural setting and enjoy the wellness of visual beauty and friendly company."
"Our 25th year is bigger and better with more artists and and more sites," adds Ms. Lake. "People will discover all types of artists who work with paint, ink, clay, fine stones, wood and glass to create original pieces of art."
One of the artists participating is Pierre Giroux, who has set up his art at the brand new Stomping Grounds Bistro in the historic Cotton Mill district along Cornwall's waterfront.
"As an artist, I love meeting people and seeing their reaction to my art," says Pierre Giroux. "I would encourage people to try and get to as many studios as possible. The diversity and excellence of the art on display is simply breathtaking!"
New App for 2016!
A new Apples and Arts app is now available for iPhone and Android smart phone users. Get directions and info on each location and the artists they are hosting from your smartphone, Get yours before we run out!
Saturday and Sunday – 10am to 4pm
The two-day tour stretches from Morrisburg to Alexandria, with numerous stops along the way.
For additional details on studio locations and participating artists, please visit the Apples and Art Tour online:
Artists and Studios – Apples and Art 2016
The Grind, Cornwall
Erynn Doherty
Heather J. Smith
Cornwall Public Library, Cornwall
Carol Oss
Ken Muir
Virginia Lake
Dempster's Framework, Cornwall
Joan Levy Earle Art Studio, Cornwall
Joan Levy Earle
Lisa Dawn Earle
Ontario Power Generation Visitor Centre, Cornwall
Carolyn Davis
Carrie Keller
Cheryl Beasley
Helen James
Laura Stevens
Suzanne Rowlands
Melting Pot Studio, Cornwall
Love Yoga, Cornwall
OBO Studio, Cornwall
Anne Wylemans
Emily MacLeod
Hye Kyung Yun
Margot Boucher
Misun Kim-Hunter
Tracy-Lynn Chisholm
Cailuan Gallery, Cornwall
Just Breathe Art Studio, Cornwall
Jane Originals, Cornwall
Stomping Grounds Bistro, Cornwall
Aultsville Theatre, Cornwall
Barbara Darling
Brian Thomas
John Roulston
Libby Cameron
Marcel Quesnel
Beverly Leroux
Claudette Pilon
Laura Leah Lindeman
Linda Geisel
Marleene McWilliam
Stephanie St. Denis Kasper
Marlin Orchards, South Glengarry
Martintown Mill, Martintown
Brenda Mader
Susan Irving
Robert (Bob) Taylor
Cynthia Gatien Studio, South Lancaster
Cheryl Langford
Cynthia Gatien
Deirdre Cuggy
Margaret Brown Studio, South Lancaster
St. Pierre's Sugar Camp, Lancaster
Brian Schofield
Gillian Horgan
Sindy Leger
Living Sun Glass, Green Valley
Priest Mill Glassworks, Alexandria
YC Art, Alexandria
Bobi (Henriette) Poitras
Yvonne Callaway
As You Like It Design, Alexandria
Thousand Angels Studio, Alexandria
Brenda Kennedy Studio
Native North American Travelling College, Akwesasne
David Kanietakeron Fadden
Jade Thompson
Elsie Gallinger Studio, Morrisburg
Categorised in: Arts and Entertainment