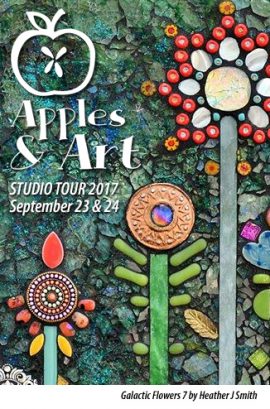 Apples and Art Studio Tour Bigger in 2017
September 18, 2017
Cornwall Ontario – The arrival of fall also heralds one of the more colourful events on the calendar: the Apples and Art Studio Tour.
This year, more than 60 artists are showcasing their art in 26 different locations on Saturday and Sunday, from 10am to 4pm.
"The goal of the tour is to give people an opportunity to enjoy art in the spaces where it is actually created," says Virginia Lake. "It is a chance to meet the artists, to chat, to see their work in a natural setting and to learn more about the creative process – which is unique to each artist."
"We have more artists this year with more than a third new to the tour," added Ms. Lake.  "It is going to be a grand weather weekend, so a drive out and around the city will be exciting.  The leaves are changing which always makes the tour more colourful."
Last year, the Apples and Art Studio Tour was recognized by the Cornwall Chamber of Commerce with the Tourism Excellence Award.
"Local artists were excited by the acknowledgement," says Ms. Lake.  "Artists impact the community in so many ways. We know that people come from out of town to visit the tour and that in addition to buying art they will also spend dollars on other things like lunch, gift and speciality shops, gas and more."
The Apples and Art Studio Tour will help people discover a wide variety of artists who work with paint, ink, clay, fine stones, wood, glass and other material to create original pieces of art. An Apples and Arts app is available for smart phone users is free that provides directions and info on each location.
"If you are taking the tour, get a brochure from your first artist, download it from our website or use the app on your phone. Make sure you leave time for lunch and above all else, enjoy the scenery!"
The two-day tour stretches from Morrisburg to Alexandria, with numerous stops along the way.
For additional details on studio locations and participating artists, please visit the Apples and Art Tour online:
Artists and Studios – Apples and Art – September 23 & 24, 2017
Elsie Gallinger Studio, Morrisburg
Shauna Lea Baggs Studio, Long Sault

Shauna Lea Baggs, Acrylic – Mixed-Media

Ontario Power Generation Visitor's Centre, Cornwall

Cheryl Beasley, Acrylic – Chalk – Pastel – Watercolour
Carrie Keller, Oil – Watercolour
Miriam Mas, Oil on Canvas
Ian Shantz, Bone – Stone – Metal – Wood Carving
Laura Stevens, Mixed Media

Rurban Brewery, Cornwall

Erynn Doherty, Acrylic – Photography

Love Yoga, Cornwall

Paula McDermid, Acrylic – Beads

Cailuan Gallery, Cornwall

Marc Carierre, Stained Glass – Paintings
Tracy Davies, Acrylic – Mixed Media
Roxanne Delage, Multi-Media – Textile
Beatrice Dumbreck, Watercolour – Acrylic – Oil – Sculpture
Wilma Erickson, Acrylic – Mixed Media
Sylvie Labrecque, Colour Pencils – Acrylic
Jason Sauve, Oil – Ink
Sandra Taylor-Hedges, Acrylic – Mixed Media
Jade Thompson, Acrylic – Acryl-Gouache – Ink

Jane Macmillan Studio, Cornwall

Jane Macmillan Watercolour – Pen & Ink

The Grind Café & Wine Bar, Cornwall

Virginia Lake Ink-Coloured Marker
Jacqueline Milner Acrylic – Mixed Media – PhotographyPuppet Show at 11:30 and 14:00. Come see Isa Jo and Lilli

OBO Studios, Cornwall

Margot Boucher, Watercolour – Acrylic
Tracy-Lynn Chisholm, Acrylic
Emily MacLeod, Oil – Mixed-Media
Shari Smelko, Oil
Heather J Smith, Mosaics – Jewellery

Clo's Art Studio, Cornwall

Claudette Pilon, Acrylic – Oil

Stomping Grounds Bistro, Cornwall

Pierre Giroux, Oil – Watercolour – Mixed Media

Elaine's Batiks, Cornwall
Just Breathe Art Studio, Cornwall

Kathleen Morin, Acrylic on Canvas

Aultsville Hall, Cornwall

Libby Cameron, Pastel – Pen & Ink – Watercolour – Acrylic
Terrie Chedore, Acrylic – Pastels
Barbara Darling, Oil – Watercolour – Acrylic
Betty Greenhalgh, Watercolour – Oil – Acrylic – Mixed Media
Helen James, Oil – Watercolour – Acrylic
Bev Leroux, Acrylic – Watercolour
Ken Monk, Watercolour
Carol Oss, Watercolour – Acrylic – Pastel
Marcel Quesnel, Oil
Suzanne Rowlands, Acrylic – Encaustic – Powertex

Desnoyers Art Expressions, Glen Walter

Rose Desnoyers, Oil – Watercolour

Salem United Church, Summerstown

Lynne Ayers, Photography – Acrylic
Janet Harris Timms, Oil

Cynthia Gatien Studio, Lancaster

Deirdre Cuggy, Acyrlic
Cynthia Gatien, Acyrlic
Cheryl Langford, Acyrlic

Margaret Brown Studio, Lancaster
The Millinery at Cornerstone Farm, Green Valley

Mitch Corriveau, Natural Fibres – Felting – Needlework

Living Sun Glass Studio, Green Valley

Brian Schofield, Wood
Samantha Calder, Stained Glass

Studio JANO, Alexandria

Jeanne Bougie-Desjardins, Acrylic on Canvas
Darleen Varley, Watercolour

Priest's Mill Arts Centre, Alexandria

Leanne Baldwin, Fabric – Mixed Media
Edwina Billyk, Clay & Paint
Eric Covington, Glass
Susan Irving, Acrylic – Oil – Watercolour – Mixed Media
Brenda Sutton, Mader Clay – Pottery
Jenny McDonald, Leaves
Clifford Parsons, Stained & Kiln-Formed Glass
Margaret Szlachcinska, Oil – Soft Pastel

The Quirky Carrot, Alexandria
As You Like It, Alexandria

Jan Cogley, Costume – Textile
Lesley Orr, Acrylic
Bobi Poitras, Acrylic

Thousand Angels Studio, Alexandria

Sylvie Juteau, Sculpture Metal
Andre Racette, Sculpture Metal
Categorised in: Arts and Entertainment