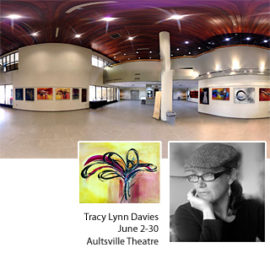 Art Exhibit Runs All Month At Aultsville Theatre
June 2, 2014
Cornwall Ontario – Your Arts Council (YAC) has partnered up with Aultsville Theatre to bring a wonderful and imaginative new exhibit, Colour of my Passion from South Dundas artist Tracy Lynn Davies.
The exhibit will run the entire month of June.
The exhibit will showcase a series of eclectic and powerful mixed medium abstract paintings by the local artist who describes her work as, "grounded in aesthetics and emotion and are conceived through music and mood."
"Tracy is an amazing artist and this is another great opportunity for YAC to showcase and celebrate its very talented membership. These exhibits also provide the artist with networking opportunities while helping develop their capacity as a professional artist through gallery showing experience," said Bruce Davis, Executive Director of Your Arts Council.
Aultsvillle Theatre is excited to be bringing another exhibit to their lobby with Your Arts Council Cornwall & The Counties.
"This is a great example of community benefit when organizations work together under one roof with a common objective – the celebration of arts and culture in our community," said, Janet Martel, General Manager of Aultsville Theatre.
Exhibit Schedule
Colour of My Passion runs, Monday to Friday 8:30am to 5:00pm from June 2nd 2014 to June 30th 2014 with an opening reception, June 2nd 2014 from 5:30pm to 7:00pm inside Aultsville Theatre's lobby, located on the Cornwall campus of St. Lawrence College.
About Tracy Lynn Davies
Tracy Lynn Davies works from her studio, Mish Mosh Studio, located on beautiful Ault Island in South Dundas near Cornwall, Ontario. Tracy works in water media and Acrylic, but finds her passion in mixed media. Her beautiful modern work has a distinct harmony that resonates through each piece speaking to the heart of the viewer. Tracy has a diversity of work including painting, sculpture, collage and jewelry making.
About Your Arts Council
Your Arts Council (YAC) is an organization created to nurture and support an inclusive environment where creativity has a voice in Cornwall and The Counties. Working with strategic partnerships, the organization works to connect resources and create opportunities for continuous improvement and mutual financial sustainability within the region's Arts and Culture Sector. To find out more, visit yourartscouncil.ca
About Aultsville Theatre
Aultsville Theatre is a spacious, well maintained 658-seat performing arts theatre located at 2 St. Lawrence Drive (formerly 2 Belmont St.) on the campus of St. Lawrence College. Opened in 1976, Aultsville Theatre has hosted hundreds of community and world class performances. For more news on what's happening at the Theatre, please visit www.aultsvilletheatre.com
Categorised in: Arts and Entertainment, General, News