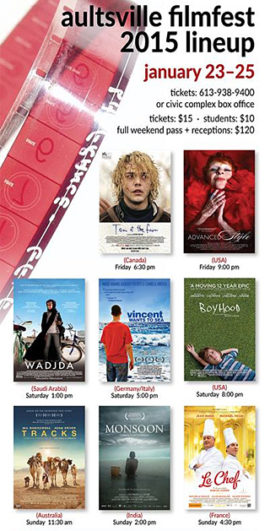 Aultsville Filmfest Featuring 8 Films January 23-25
January 12, 2015
Cornwall Ontario – Organizers of the popular Aultsvile Filmfest have a treat in store for movie-lovers this year. The 9th annual Filmfest will feature eight films, compared to six in previous years.
"We're really excited about the lineup this year, because it's really a global journey," said Melanie Baker-Brown, festival board member. Ms. Baker-Brown views dozens of films each year, at TIFF and at other venues, in order to select the lineup. "We're really excited about the lineup this year, because it's really a global journey. We're hoping to leave our audiences shaken and stirred; we want all the emotions."
All films will be shown in Aultsville Theatre allowing patrons to enjoy the comfort and acoustics that Aultsville Theatre provides. All activities will be held on-site and the gracious lobby and reception space is perfect for socializing. a welcome convenience that will promote great conversation and new friendships.
"It's the discussion between the films which is what the audience seems to enjoy. It certainly builds a community atmosphere."
The Aultsville Winter Filmfest is an annual event that brings Independent Film to Cornwall, and raises money to support operations and refurbishment at Aultsville Theatre.
Movie Line-Up
Friday January 23rd, 2015
6:30 pm – Tom à la Ferme
9:00 pm – Advanced Style
Saturday, January 24th, 2015
1:00 pm – Wadjda
5:00 pm – Vincent Wants To Sea
8:00 pm – Boyhood
Sunday, January 25th, 2015
11:30 am – Tracks
2:00 pm – Monsoon
4:30 pm – Le Chef
Ticket Prices
Festival Passes cost $120 and includes all 8 movies plus admittance to all social events including cocktail hours between screenings.  Individual Movie Tickets can be purchased for $15, $10 for students.
Festival Passes and Individual Movie Tickets are on sale at the Civic Complex Box Office prior to January 23 or at the Aultsville Theatre Box Office 1 hour prior to show time (subject to availability).
All festival screenings will take place at Aultsville Theatre.
About Aultsville Theatre
Aultsville Theatre is located at 2 St. Lawrence Drive on the campus of St. Lawrence College. Featuring great acoustics and a well maintained 658 seat interior, Aultsville Theatre has hosted community and world class performances since 1976. You can find out more info online:
Categorised in: Arts and Entertainment, General, News