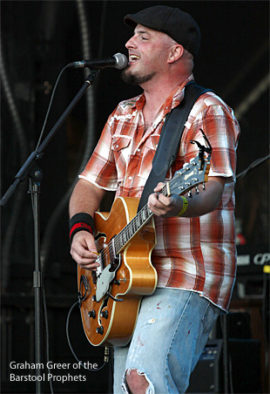 Barstool Prophets and Glass Tiger Jump Start Lift-Off
July 10, 2014
Cornwall Ontario – Lift-Off organizers chose well when the decided on the music lineup to launch the 20th Anniversary of Kinsmen Cornwall Lift-Off.
Fan favourites Glass Tiger are headlining, supported by Barstool Prophets, one of the most popular bands to ever emerge out of Cornwall.
Barstool Prophets rose to popularity in the 1990s with singles such as "Paranoia", "Last of the Big Game Hunters" and "Friend of Mine" – all of which were Canadian rock radio hits. "Paranoia" was also included on the soundtrack to the Antonio Banderas / Rebecca De Mornay film Never Talk to Strangers.
The original lineup is back together for Lift-Off, including bassist Glenn Forrester, guitarist Al Morier, drummer Bobby Tamas and singer/songwriter Graham Greer.
"It is great to be back as a band in Cornwall and playing on the banks of the St. Lawrence River," says Mr. Greer. "Can there be a more beautiful setting for a rock concert?"
It is likely that the tour buses for the Prophets and Glass Tiger crossed paths while both bands were touring.
Glass Tiger had several hit singles in Canada and placed two songs on Billboard magazine's top 10: "Don't Forget Me (When I'm Gone)" and "Someday". They were also nominated for a Grammy Award for Best New Artist in 1987 and won five Juno awards over their career.
"Our drummer Bobby was a big Glass Tiger fan in high school, so he is tickled pink to be opening for them," says Mr. Greer.
The Barstool Prophets promise a lively set with about 11 songs culled from their catalogue.
"There will be no spandex, just loud guitars and lots of fun," jokes Mr. Greer.
Tonight represents the third time that the band has played in the last several months. And despite another gig in Ottawa in February, it may not be enough for die-hard fans who have been increasingly calling for new songs. One such fan is Dan Mountney who has travelled to Ottawa as the band's special guest.
"We have some great fans and we were happy that Dan could see us tonight," says Mr. Greer.
The band will have new T-Shirts and CDs for sale and are always happy to meet and talk with fans.
Admission to the Festival is FREE tonight with music from Street Road, Lost Boyz, Barstool Prophets and Glass Tiger. Action continues all weekend long with acts such as 54-40, Paul Deslauriers, Alan Doyle, Devin Cuddy and Doc Walker. Festival passes are now on sale.
Related Stories
About Cornwall Lift-Off:
Cornwall Lift-Off was founded in 1994 and has since hosted back-to-back Canadian National Hot Air Balloon Championships in 1996 and 1997. The success of the festival has grown considerably since its modest beginnings in 1994. Each year, the festival welcomes approximately 25 hot-air balloon teams, the Homenuik Rides carnival, a spectacular fireworks display, Family Zone, and great local and international musical entertainment. Past entertainers have included Dean Brody, Burton Cummings, Marianas Trench, Down With Webster, Sloan, Dennis DeYoung of Styx, Tom Cochrane, Colin James, Amanda Marshall, Theory of a Deadman, Finger Eleven, Collective Soul, Loverboy, Trooper, Kim Mitchell, April Wine, Our Lady Peace and Chantal Kreviazuk.
For more information about this year's Lift-Off Festival please visit:
Categorised in: Arts and Entertainment, General, News