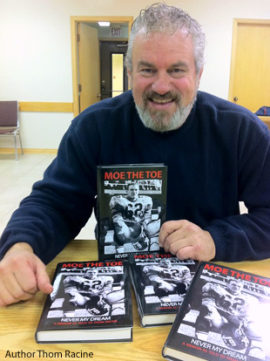 Book Explores The Career Of CFL Great Moe Racine
November 27, 2014
Cornwall Ontario – Looking for a good book this holiday season? How about one that deals with a small-town boy making a name for himself on the biggest field in pro-sports?
Maurice (Moe) Racine stepped off a bus in Ottawa one day to try out for the Ottawa Rough Riders in 1958.  Little did he know that he would soon become a star in the Canadian Football League, a career path that would seen him inducted into the Canadian Football Hall of Fame.
Moe's recollection of his career has been compiled into a new book by his son Thom Racine. Moe The Toe – Never My Dream includes dozens of photographs of Moe in action, and explores his career which included 213 regular season games, 36 playoff games, and 5 Grey Cup games with Ottawa, all of which are Ottawa Rough Riders records.
"To me he was my father, but as I grew up I came to realize just what he was able to accomplish," says Thom Racine. "This book has been a bouncing around in my mind for years, and I am happy that I was able to finish it while Dad can still connect with his fans."
Book Signings
Moe The Toe – Never My Dream will be officially launched on Monday December 1 at Shoeless Joe's in Cornwall.  Both Moe and Thom will be on hand to sign copies from 11:00 am until 2:00 pm and again from 5:00 pm to 7:00 pm.
Fans who cannot make it on Monday can also meet the Hall of Famer at Cornwall Square on December 13 (11-2) at the Team Cornwall Year in Review on December 17 and at the Cornwall Colts game on December 18.
The book will also be available in Cornwall at Schulman's Men's & Ladies' Clothing, Pommier Jewellers, Casa Paolo Ristorante, Cornwall Toyota, Coles Book Store, Friends of the Library and the Esso Gas station on Marleau.
Fans in Ottawa can pick up a copy at the Ottawa REDBLACKS gift shop on Bank Street, or contact the author directly.
About Moe Racine
Following standout high school football performances at St. Lawrence High School that culminated in three EOSSAA championships, Moe Racine would join the Ottawa Rough Riders in 1958. He would be Ottawa's offensive right tackle until his retirement in 1974. He also served as the Rough Riders' kicker from 1960 through 1967, earning the nickname, "The Toe". As a kicker, Racine was one of the best in the CFL and helped Ottawa win 4 Grey Cups.
About Thom Racine
A retired Police Officer, Thom Racine is recognized as a community leader for his volunteer efforts with a number of organizations, including the Cornwall Sports Hall of Fame. A regular contributor to the Cornwall Seaway News, Thom has now penned two books that explore Cornwall's history. Being the oldest of the four Racine children, Thom remembers how his dad prepared for games, and saw — first hand — the physical and emotional toll "playing the game for a living" has on a football player's life. Impeccably researched, Moe The Toe explores one family's journey, while living through the greatest era of the CFL.
Categorised in: Arts and Entertainment, General, News