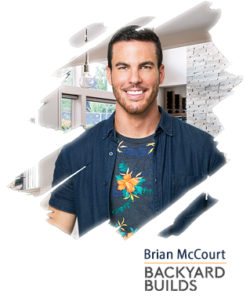 Brian McCourt is Building Amazing Backyards
May 26, 2017
Cornwall Ontario – Brian McCourt is a busy man. In addition to running his own home renovation business, he is a growing star on HGTV, co-hosting the show Backyard Builds. He has also contributed an article on home renovation for the recent issue of Cornwall Living magazine.
It has been an amazing journey for someone who was born in Morrisburg and went to school at St. Joseph's in Cornwall.
"I had the typical jobs growing up – working at Subway at Cornwall Square and at Galaxy Cinemas," says Mr. McCourt. "Cornwall is a great city to make friends, and there was always support to dream big."
Despite competing interests, including a bid for Canadian Idol, it would be his love of real estate that would shape his career.
At the age of 19, he prepared a business plan and gave a presentation to family and friends about investing in a property that he planned to renovate and flip.
"It was a dream in the back of my mind that I could become an entrepreneur and make enough money to support myself," says Mr. McCourt.
He raised enough funds to buy the property, and after renovating it, he sold it at a profit. This led to more flips in Ottawa and Montreal.
He would soon come to the realization that the part of the entire process he enjoyed the most was designing and managing tradespeople during the renovation process.
"Designing new spaces is what I love to do."
He would move to Toronto to promote his new company Brian McCourt Designs. His subsequent work led to a positive reputation that caught the attention of HGTV executives.
"One day I was approached by HGTV who had strong interest doing something with me," says Mr. McCourt. "It has been an amazing journey. There is so much to learn, but I am very lucky to have awesome support and a very talented co-host in Sarah Keenleyside."
Backyard Builds recently wrapped up shooting of its first season to rave reviews. The show showcases the endless opportunities outdoor areas can provide. Mr. McCourt and Ms. Keenleyside work with homeowners to maximize their backyard's potential by creating tailored, one-of-a-kind structures. Epidsodes have involved projects such as converting shipping containers into additional living space, and building a backyard cottage, an outdoor amphitheatre and a treehouse village complete with zipline.
"Its my dream job – on steroids!" says Mr. McCourt. "I get to build crazy stuff. It's so much fun, I could pinch myself!"
More information about Brian McCourt can be found on his website:
You can read Brian's home renovation article in the 2017 edition of Cornwall Living magazine. Fill out the Request Info form on this website to request a copy of the magazine.
Categorised in: Arts and Entertainment