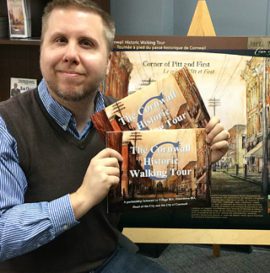 Calendar Offers Unique Glimpse into Cornwall's History
November 21, 2016
Cornwall Ontario – The popular Cornwall Historic Walking Tour has been immortalized in a calendar that is already flying off the shelves throughout the city.
"Our tour has been universally welcomed by local residents and visitors to our city who have told us they appreciate our dedication to local history and local art," said Todd Lihou, Centretown Coordinator. "Now people can celebrate the holidays with a gift that is steeped in Cornwall's proud heritage."
The 13-month calendar features full colour reproductions of the plaques that were unveiled earlier this summer. Each month depicts a scene from Cornwall's long and colourful past, featuring original art by renowed artist Pierre Giroux.
Here is list of the plaques included in the calendar:
The Paper Mill
Gleeson's Lock
Le Village
Race Street
The Stormont Mill
August Street Swing Bridge
Cornwall Orphanage
The Cotton Mills
Rapids Prince
Hotel Dieu Hospital
Founding of New Johnstown
Co-Cathedral of the Nativity
Post Office
A Perfect Stocking Stuffer
Limited quantities of the calendar are available for sale for $20at select locations in Cornwall's downtown and in Le Village as well as at the Cornwall Economic Development office in the Cornwall Civic Complex.
Proceeds from the sale of the calendar will be re-invested in the walking tour project, as additional plaques are planned for 2017.
About the Historic Walking Tour
18 plaques have been erected throughout Cornwall, celebrating the rich history of the area by featuring illustrations of scenes from days gone by.  Individually each plaque is impressive, yet together they form a tapestry that weaves throughout the city.
The tour is a 6km linear route that can be completed within 90 minutes, or experienced in part over a number of days.
An online map, featuring each of the illustrations, their location and a description of the subject or event being depicted can be found the following websites:
Categorised in: Arts and Entertainment