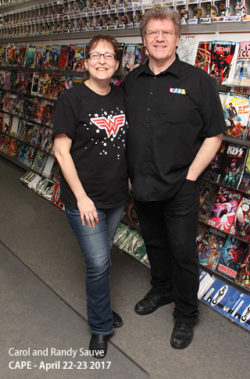 CAPE Set to Amaze this April 22-23
April 13, 2017
Cornwall Ontario – CAPE is back and promises to be bigger and better than ever.
CAPE is a two-day exposition to celebrate the ever-popular entertainment genre of super hero story-telling.  Attendees get to meet special guests, browse vendors selling collectibles, and interact with other fans – many of which will be in full costume.
"This year promises to the biggest ever," says organizer Randy Sauve. "For two days super heroes (and the odd villain)  will be taking over the Benson Centre. Bring a camera and join the fun!"
CAPE takes place April 22-23 at the Benson Centre. New attractions this year include:
New CosPlay Contest
People arriving in costume are invited to enter the CosPlay Contest. There will be two categories (under 12 & 12 and over) with multiple prizes in each category. There will be CosPlay lounge to accomodate people looking to change costumes.
Dr. Who Escape Room
Dr. Who is famous for coming up with the right solution at the last minute. How do you measure up? Can you successfully escape in time?
Cornwall Chewie
Have you hugged a wookie? A CAPE exclusive, Jeff Gallinger is always a BIG hit with the fans! Chewie stands 7'6″ tall and is definitely "the real deal". Meet Cornwall Chewie Saturday from 11am to 2pm.
Special Guests
Sean Gunn from Guardians of the Galaxy
Yanic Truesdale from Gilmore Girls
Michael Koske – The Walking Dead
Kimberly Leemans – America's Next Top Model
Don Teems – The Walking Dead
Capital City Garrison – 501st Legion
League of Super Heroes
Montreal X-Men
Cosmic Lounge
Dr. Who Society of Canada – Ottawa Chapter
and many more!
Kessel Run – Gaming Room
Kessel Run Games is running a Pandemic Survival tournament on Saturday at 1pm.
Grab a partner and race against 11 other teams in a race to save the world from total annihilation, for prizes and glory! Tournament is free to CAPE attendees.
Show Times
Saturday April 22 – 10:00 am to 6:00 pm
Sunday April 23 – 10:00 am to 5:00 pm
Free Bus Rides
Cornwall Transit is offering free rides to people attending CAPE.
On Saturday, people will be able to ride Cornwall Transit for free simply by showing their CAPE ticket or telling the driver they are heading to the event. Or better yet, wear a costume!
On Sunday, Cornwall Transit will be providing a free, limited route shuttle to the Benson Centre during the event, which runs from 10 am to 5 pm. The shuttle will make stops and returns to several different spots throughout the City. To see the shuttle itinerary, please click here.
Ticket Info
Weekend Admission – Includes both Saturday and Sunday – $30 ($35 at the door)
Saturday ONLY – $22 ($25 at the door)
Sunday ONLY – $15 ($18 at the door)
Child Admission – FREE for children 12 & under (no ticket required)
Tickets are available at FANTASY REALM located at 227 Pitt Street in Downtown Cornwall.
Online tickets available at www.cornwallpopevent.com
Tickets will also be available at the Benson Centre on the day of the event.
After Party
Head over the Agora Centre on Saturday night for an after party fearing live music from Double Experience, the magic of Ryan Lalonde and comedy from Tim Riel, Jason Hatrick and Matt Shury. Rurban Brewing will unvieil a special CAPE themed beer. This is a separate ticketed event.
About CAPE
CAPE stands for Cornwall and Area Pop Event, and is modeled after the popular comic-con events held around the world. The first CAPE was held in 2015 and is organized by Randy Sauve and Carol Grant, two well known business people in Cornwall.
You can learn more online:
Categorised in: Arts and Entertainment