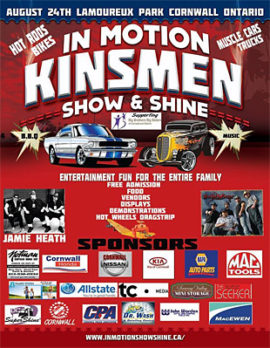 Car Show Rolls Into Lamoureux Park
August 21, 2014
Cornwall Ontario – Car enthusiasts will have plenty to see and do when the second annual Kinsmen in Motion: Show & Shine rolls into Lamoureux Park on Sunday, August 24th.
Organizers are expecting to have more than 200 muscle cars, bikes, trucks and hot rods on display in the park during the day to go along with live music, food, vendors, displays, demos and a Hot Wheels dragstrip and other activities for children.
The event is free for all ages!
"People can expect a day of fun in the park with great cars to admire and amazing local talent," said Eric Smellie, Chair of the Event.
The live music will consist of performances by local blues artist Jamie Heath at 10:30 am and popular country-rock act Switchgear at 1:30 pm.
Gates open at 6:30 am with vehicle registration between 7 am and 11 am. The cost to register is $10 per vehicle, and the show will end with trophy presentations by 4 pm.
To kick off the event in style, Kinsmen Cornwall is adding a drive-in theatre the Saturday night before the show.
Show & Shine and the special movie viewing are free to attend, but donations to Big Brothers Big Sisters are welcomed.
"It gives us a chance to engage the community and the opportunity to support Big Brothers Big Sisters," said Smellie.
For updates and additional info on the event, check out the Kinsmen in Motion Show and Shine Facebook page
About the Kinsmen Club of Cornwall
The Kinsmen Club of Cornwall was chartered on April 20th, 1933 and for the past 80 years the volunteer-led club has been working tirelessly to help Cornwall residents. The club's motto is to 'serve our community's greatest need'. The club regularly supports a number of charities and sports in the community, including girls hockey and kids soccer. Some of the more notable projects the club has also supported has been the redevelopment of the Cornwall Community Hospital and the construction of the Aquatic Centre – to name just a few.
Categorised in: Arts and Entertainment, General, News