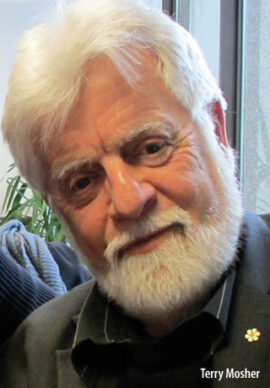 Cartoonist Aislin to visit TAG Cornwall
September 2, 2015
Cornwall Ontario – One of the world's most accomplished cartoonists will be visiting Cornwall.
Terry Mosher, better known by his nom-de-plume of Aislin, will be visiting TAG on September 19 to chat with people and sign books. His visit will come in the middle of a three week exhibition of his work at the Pitt Street gallery.
"It will be nice to have an exhibition of my work along with several other cartoonists in Cornwall, particularly given that it will be in support of TAG, a worthy cause," says Mr. Mosher.
Mr. Mosher has been the political cartoonist for the Montreal Gazette for forty years.  His drawings have also appeared in numerous international publications, such as Punch, The Atlantic Monthly, Harper's, National Lampoon, Time, The Washington Star, The New York Times and the Canadian edition of The Reader's Digest.
He is the author of 47 books, including his most recent collection of cartoons: The Wrecking Ball.
"We know that my work in the Montreal Gazette is seen in Cornwall as I hear from readers there with opinions on my cartoons, particularly those relating to hockey!" adds Mr. Mosher. "You would seem to have a three-way split in your community: Habs fans, Senators fans and Leaf fans!"
Mr. Mosher is the recipient of two National Newspaper Awards and five individual prizes from the international Salon of Caricature. In 1985 Mosher became the youngest person ever to be inducted into the Canadian News Hall of Fame.  He was inducted into the Canadian Cartoonist's Hall of Fame in 2012, the same year he won the gold prize from the National Magazine Awards for a memoir that he created about the 1972 Canada-Russia hockey series for History Magazine.
He is also President Emeritus of the Association of Canadian Editorial Cartoonists and has recently served as a judge and observer at international cartoon events in Portugal, Turkey, China, Australia, and Cuba.
Mr. Mosher was made an Officer of the Order of Canada in 2003. The announcement at the time included these words:
"Funny, audacious and sometimes outrageous, he is known as Aislin and is one of our country's premier political cartoonists. With a few pen strokes, he comments on Canadian life and gives us the pulse of a nation. He has become an advocate for Canada's most disadvantaged and often reminds us of their plight. His humanity and concern for fairness and justice are reflected in his work."
The Aislin exhibit will run from September 13 to October 8 at TAG Cornwall, located at 168 Pitt Street.
About TAG Cornwall
TAG Cornwall – The Art Gallery of Cornwall is a public art gallery providing programs that aim to cultivate awareness, appreciation and accessibility of the visual arts within the community for its cultural enrichment.
Categorised in: Arts and Entertainment, General, News