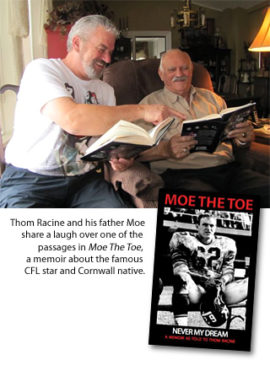 CFL Star Moe Racine Immortalized In Memoir
October 28, 2014
Cornwall Ontario – The story of Moe Racine's success in the CFL is being told in a new book that, not surprisingly, has been written by his son Thom.
And despite all the stories of his success on and off the field – he was a four-time Grey Cup champion with the Ottawa Rough Riders – in an interview there are other things that stick out.
"My legs," he said with a laugh. "My legs were so big and strong."
That shouldn't come as a surprise. Racine got the nickname 'The Toe' for his kicking exploits that resulted in 392 career points and numerous all-star recognitions.
"Everyone I played with said I mentioned in the book my speed and strength," he said, almost dismissively.
Racine, despite his success on the field, has never been one to seek the spotlight.
He can thank his son Thom, a former police officer who has jumped into writing with both feet, who put together Moe The Toe – Never My Dream.
The memoir tells the story, and then some, of a shy Cornwall boy who became a man on the football field.
"If one wanted to follow my old man's career, you only had to go to the boxes," said Thom, alluding to the reams of material the family kept over the years. "I had a real head start."
The book includes interviews and recollections with dozens of former CFLers who lined up with, and against, the elder Racine.
It also tells the story of a sporting family that has roots deep in the Seaway City.
"On game days you never attempt to talk to your father," said Thom. "He took his job very seriously."
The book goes into great detail concerning the 1973 Rough Rider championship, what Moe refers to as "My Grey Cup."
The '73 team was not expected to win, but Moe points out that his teammates wouldn't have it any other way.
"We had such a great group of guys. We were a real team," he said.
'Moe The Toe' also tells the story of the elder Racine's girlfriend Sylvia, whom was known to his wife Donna.
But before readers can get too bent out of shape it is revealed that Sylvia is a hotel in Vancouver, where the Rough Riders would stay during games against the Lions.
"My dad had a girlfriend," Thom said with a laugh, telling the story of how wide-eyed football players would enjoy being wined and dined at a hotel that was bigger and better than they would see in most other locales.
Moe The Toe will be available Sunday at the Trunk Sale taking place at Marlin Orchards from 10 a.m. to 4 p.m.
A formal book launch is being planned for early December. The book will be available at Coles, Shulman's Men's Wear, Cornwall Toyota and Neo-Vintage Furniture locally.
About Thom Racine
Thom Racine has wanted to write a book about the career of his famous dad for a long time. Born in Cornwall, Ontario, Thom retired in 2012 after 32 years' service with the Cornwall Police Force. Being the oldest of the four Racine children, Thom remembers how his dad prepared for games, and saw — first hand — the physical and emotional toll "playing the game for a living" has on a football player's life. Thom's first book, Constable Davey — A Future Lost, helped prepare him for this second voyage back in time.
Moe The Toe explores one family's journey, while living through the greatest era of the CFL. Impeccably researched, it is sure to leave a lasting legacy from one of the longest careers in CFLhistory — that of his father, Moe Racine.
AN EXCERPT FROM MOE THE TOE:
You must first understand how it really was. An eye for an eye, hit to hurt, no friends and never surrender. You had to survive. That made up a big part of the game—because it never was "just a game."
In almost everything written about me at the end of my career, the story told by Coach Bill Smyth of my arrival in Ottawa got a lot of print. I took one of those old orange Colonial Coach buses to Ottawa from Cornwall. It was the 'milk run' as we called it, stopping everywhere and taking half a day to get to Ottawa. Before I bought a car, I came home on the same bus for a few years to see Donna and my family whenever I could. But what a long trip on that "iron lung!"
That day in July 1958, the Colonial stopped right in front of the main gates of the Exhibition Grounds at Lansdowne Park. I lugged my 6' 4", 260-pound frame down the steps and onto the sidewalk. I was a little nervous. I had only ever seen one pro game and that was in Montreal during the 1956 season when our Saints high school team went to see the Alouettes. We sat just outside the end zone on the grass. I was sitting beside Jack Entwistle and it was hot.
I remember during the warm up, the Als' Herb Trawick was doing his wind sprints and stretches right in front of us. The sweat was pouring off him. Jack and I looked at him and then at each other—Trawick looked scary with sweat pouring off his face. I have always remembered that image of Trawick, the first African American to play professional football in Canada. I never would have dreamed that a couple of years after watching the Alouettes, it was time to see if I could play with the pros. I had no idea that day where stepping onto the sidewalk would lead.
In 1958, there were no south side stands. The Ottawa Rough Riders offices were on the second floor of a narrow building that fronted onto Bank Street with windows looking down onto the sidewalk. At street level, the building doubled as a ticket office with entry gates to the grounds.
In their very cluttered office, Coaches Frank Clair and Bill Smyth were getting ready for training camp. Jack Kinsella, longtime sportswriter for the Ottawa Citizen, was in the office, "I always enjoyed sitting with the coaches during training camp, a new year always brought new hope. That day, Bill Smyth just bounded out of his chair, I remember it well. The kid looked so out of sorts, just standing there on the sidewalk after the Colonial pulled away…." Kinsella made some notes about what he saw and heard that day and, a few years later, he wrote a column about me which included this paragraph about my arrival at Lansdowne.
I will let Bill Smyth tell it from here. "I noticed a large muscular kid step off the bus, 'Frank, will you take a look at this kid,' I said. With a great crop of curly hair, and standing with a small satchel in his very large fist. His windbreaker, obviously too small, was riding up his back and halfway up his arms. The kid began looking around in bewilderment, uncertain where to go. I galloped out the door so fast that Frank must have thought I was crazy. I went around to the street and said, 'Are you a football player?' Moe's answer was not convincing, as all he could think to say in a very heavy French accent was, 'I guess so. My name is Maurice Racine and I was told to report here by John Bove, the coach of the Cornwall team.' I said, 'Follow me kid, this is the place.'"
The above story was originally published by the Cornwall Seaway News.
Categorised in: Arts and Entertainment, General, News