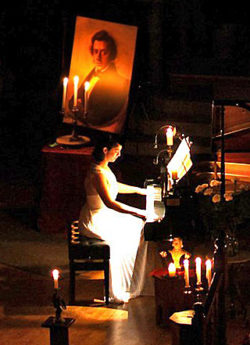 Chopin by Candlelight in Cornwall
June 16, 2017
Cornwall Ontario – Music lovers will have an opportunity tonight to discover Chopin and his music in a new setting, as it has never before been performed.
Discover Frédéric Chopin's greatest masterpieces in a concert as astonishing at it is moving, featuring Canadian-Chilean pianist Alejandra Cifuentes-Diaz.
It all takes place starting at 8:30pm tonight in La Co-Cathédrale de la Nativité  at 300 Montreal Road in Le Village.
Just imagine listening to one of Chopin's nocturnes sitting in a church illuminated only by candles, or his third Ballad, or his famous Funeral March.  Everything will be so spirited – the anecdotes, the scenery and the atmosphere – people in the audience this evening will have the impression tof attending a Concert … given by Frédéric Chopin himself!
Each performance of the works on the program that evening will make you relive the moment of its first performance or of its composition.  In this way you will be transported to Paris, the place where the composer lived during the second part of his life, to share the emotions that he felt, both joyous and melancholy.
Admission
Admission is $30 and tickets are available at Melody Music, 104 Pitt Street or at the door the evening of the concert.
About Alejandra Cifuentes-Diaz
Alejandra Cifuentes-Diaz has been playoing the piano since the age of five. She did her pre-university studies at the Vincent-d'Indy School of Music and her university studies at the University of Montreal, obtaining a Master's degree in interpretation with the professors Patrice Laré and Dang Thai Son. She then continued her studies at the prestigious Moscow Tchaïkovsky Conservatory.
Alejandra has performed as a soloist in Alberta, Ontario and Québec, as well as in Chile, Russia and Algeria.  Starting in 2011, Alejandra performed in recital in 21 different cities with the "Concerts sous les Chandelles" and she made an album entitled Alejandra Cifuentes Diaz …sous les Chandelles, which is heard regularly on Radio-Classique Montréal 99.5 FM.
About Frédéric Chopin
Frédéric Chopin was a Polish composer and virtuoso pianist of the Romantic era who wrote primarily for the solo piano. He gained and has maintained renown worldwide as a leading musician of his era, whose "poetic genius was based on a professional technique that was without equal in his generation." A child prodigy, he completed his musical education and composed his earlier works in Warsaw before leaving Poland at the age of 20. At 21 he settled in Pari where he would give only some 30 public performances, preferring the more intimate atmosphere of the salon. Through most of his life, Chopin suffered from poor health. He died in Paris in 1849, at the age of 39. Chopin's music remains very popular and is regularly performed, recorded and broadcast worldwide.
Categorised in: Arts and Entertainment