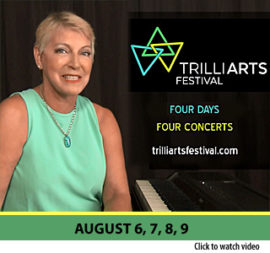 Classical Music To Fill The Air At Trilliarts Festival
July 15, 2015
Cornwall Ontario – The sounds of classical music will be soaring over the Cornwall area this August, as a new festival blooms.
Trilliarts Festival will feature four separate concerts over 4 days and different venues in and around Cornwall. It is being organized by Cornwall native and world-class musician Louise-Andrée Baril.
"The Trilliarts festival was created to showcase the wonderful talent of Cornwall and the richness of the different cultures while reiterating the importance of classical arts in our lives," says Ms. Baril. "You will be seduced by international and local stars in some of the most picturesque settings the Seaway Valley has to offer."
Ms. Baril is drawing upon her extensive connections with some of Canada's top musicians to put on the festival. She is involved with both the Opéra de Montréal and the Jeunesses Musicales du Canada and has recorded more than twenty albums.
"I've been wanting to do this forever," says Baril. "I'm excited to share my lifetime of experiences playing music around the world to my hometown."
Featuring a mix of soloists, symphonies and choirs, each performance will be unique.
"Our goal is expose people to classical music in a fun way."
Here is the lineup of the Trilliarts festival. You can watch a video of Louise-Andrée Baril talking about the festival here.
Thursday AUG 6 – FAMILY NIGHT WITH CHRIS HALL
St. Columban's Church, Cornwall
This concert is an ideal way for children and adults alike to experience classical music at its finest and funniest! Renowed clarinetist and humorist Chris Hall will take you through a series of classical music events with a fun twist, accompanied by the TrilliArts ensemble. The concert takes place at 8pm. Tickets are $20.
Friday AUG 7 – MYTHS AND LEGENDS
St. Raphael's Ruins, South Glengarry
A hero's journey under the open skies of St Raphael's mistical ruins. This 1-hour concert featuring soloist Louise-Andrée Baril will be followed by a performance by fellow Cornwall native Paul Deslauriers. Mr. Deslauriers is recognized as one of the top blues guitarists in North America. The concert takes place at 8pm. Tickets are $20.
Saturday AUG 8 – BLACK AND BLUE
Lamoureux Park, Cornwall
This concert promises to bring back memories of wonderful classical music used in so many award winning films, from Disney to James Bond. This concert will segue into a great performance by the celebrated Brigadoons! The concert takes place at 8pm the Lion's Club Bandshell on the waterfront.
Tickets are $30.
Sunday AUG 9 – MOZART CORONATION MASS
Nativité Cathedral, Cornwall
Sunday mass will be a special celebration with Mozart's coronation mass. The Archbishop will be saying mass at 11am along with choristers, the TrilliArts orchestra and soloists. A truly unique experience! Donations are encouraged in lieu of tickets.
For more information, visit the following links:
Categorised in: Arts and Entertainment, General, News