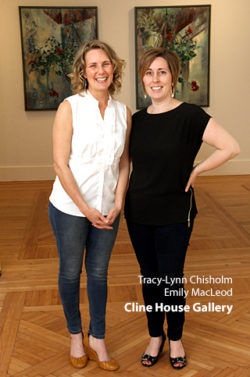 Cline House Gallery Opens on Second Street
May 31, 2018
Cornwall Ontario – There is a new art gallery in the heart of Downtown Cornwall.
The Cline House Gallery opens this week and on the walls in the newly restored heritage brownstone will hang art from over 27 local artists.
"We are very excited to be able to provide a venue where local residents and visitors can explore the work of local and visiting artists," says Tracy-Lynn Chisholm. "There is world-class talent in our region, and the gallery will connect the artists to patrons."
The Cline House Gallery is owned and operated by two well known artists in Cornwall, Tracy-Lynne Chisholm and Emily MacLeod.  The gallery will feature a rotating collection of art from a wide variety of artists who work in watercolour, oil, acrylic and mixed media. There will also be a number of sculptures on display as well.
The establishment of a permanent gallery is a big step for the two ladies.
"We have held shows and open houses throughout the years, and they have always been very well attended," says Ms. McLeod. "Maintaining a gallery on a regular basis is a natural expansion to our business and the venue could not be more perfect. whole new different concept, but we think the timing and venue is right."
The Cline House is named after its original owners, Samuel and Margaret Cline who built the house after purchasing the lot in 1856. Mr. Cline was a well known merchant in Cornwall at the time, with a store just a couple of blocks away at Pitt and Second.  Upon completion, the Standard-Freeholder described it as "one of the finest houses in all of Cornwall, giving tangible evidence of their rising position in the community."
In 2017 the building was purchased by Melanie Baker-Brown who began a substantial renovation with the assistance of the Heart of the City Community Improvement Program.
"Melanie has done an amazing job in restoring the building ," says Tracy-Lynn. "It is such a gift to have these old buildings in our community."
The gallery opening night is this Thursday at 7pm. The Cline House Gallery will also be available to be rented for special functions.
Gallery Hours
The Cline House Gallery will be open Wednesday thru Saturday from 11-4. You can also visit them online:
OBO Studios
OBO Studios will continue to operate as a separate entity in the rear of the building. OBO, which stands for 'our beautiful obsession' offers a number of workshops and classes for up and coming artists.
"OBO is our way of giving back to the community that has for so long supported us," says Tracy-Lynn. "It is wonderful to see a person unlock the artist within, and we often end up learning as much from our students and we give to them."
Categorised in: Arts and Entertainment