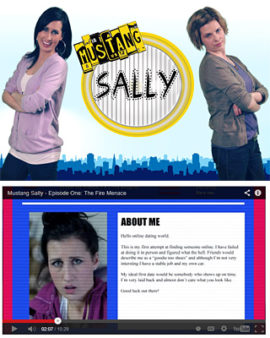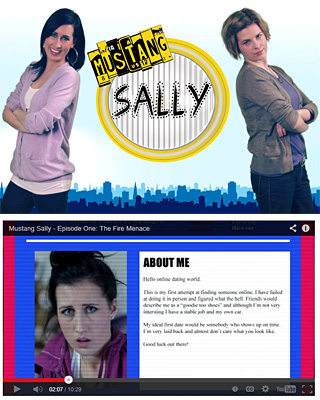 Cornwall-based Web Series Spoofs Online Dating
February 14, 2014
Cornwall Ontario – Have you ever taken the plunge and joined an online dating site?  Even if all you have ever done is think about it, you will want to read on.
Cornwall filmmaker Shaun Ryan Savard has launched a new show that offers a comedic take on the now, very popular, online dating sites. Mustang Sally follows an average woman's perspective with some not so average experiences. Future episodes will also explore the relationship between Sally and her roommate Julie, as well as family members and others.
The show is being filmed in two locations, Cornwall and Montreal and is available for viewing on the web. It follows a trend of more creative content being launched as web series. Jerry Seinfeld currently has a webseries called Comedians in Cars Getting Coffee and Joss Whedon achieved a lot of success with his Dr. Horrible's Sing-Along Blog.
"I strongly believe the foundations for the future of digitally distributed content will be laid by webseries," says Mr. Savard. "A good web series can quickly reach thousands of fans with a wide geographic reach."
The star of Mustang Sally is Sally Prosser, a friend of Mr. Savard's from his earlier days at Cornwall's Dream Builder Studios.
"Sally had been offered some onscreen roles in Chicago but wanted to stay closer to home and use her talent here," said Mr. Savard. "She is a talented actress who saw the value in the idea and jumped at the chance to be a part of this project."
Other notable actors include Jaren Cerf – Sally's best friend and the instigator of Sally's online dating adventures. Cornwall's very own Sue Stewart and Jamie Carr make appearances in the pilot episode.
"I asked my friends to help fill in the roles I knew they would excel at," recalls Mr. Savard. "Not much convincing was needed."
The process of filming one episode in the web series involves 3-4 days to shoot and another 2 weeks to edit together. Mr. Savard and co-director Stuart Bougie do the majority of the work, however they are hoping to expand their crew in the near future to help smooth out production.
Shooting any video project takes money, and Mr. Savard has turned to crowd-funding website Kickstarter to raise funds.
"Kickstarter allows our audience to directly support us so that we can pay all the people involved in the project," says Savard.  "It is not without perks for the audience, who can receive rewards ranging  from DVD's, T-shirts, and even a walk on role."
While Mustang Sally is Mr. Savard's first attempt at a web series, it is not his first film project.  He has created music videos for Toronto's children entertainers "Splash N Boots", local band Elly May and Lukas Rossi of Rockstar Supernova. He also has a documentary project about brain cancer which is currently under consideration at both the Toronto Film Festival and the Sundance Film Festival. The filmmaker is mostly self-taught, and is known for having an eye for angles, details and colour.
"I like to joke that I found my video legs doing 18 hour weddings, because in those moments you can't do a retake."
He acknowledges that being a filmmaker in Cornwall has given him a network of artists to rely upon.
" I have a lot of local colleagues that share my drive and skill. We are all in the same boat and when in need support each other."
Watch Online!
The best way to watch Mustang Sally first episode is by going to www.mustangsallyshow.com.
You can also reach Shaun here:
Categorised in: Arts and Entertainment, General, News