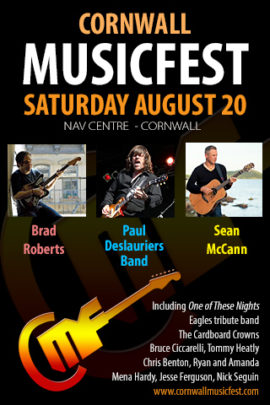 Cornwall Musicfest Set To Rock Out This Saturday
August 15, 2016
Cornwall, Ontario – Featuring some of the country's most talented musicians, including local talent and international recording artists, Cornwall's first-ever annual Musicfest will be taking place this Saturday, August 20th.
The event is Cornwall's largest outdoor summer music festival, and organizer Jason Mitchell is expecting over 2000 music lovers from Eastern Ontario, Western Quebec and Northern New York State to fill up the festival site.
"The community response has been very positive and overwhelming at the same time," said Mr. Mitchell. "Cornwall is situated in a perfect position to attract many out of town visitors."
The music festival will be using three different stages and featuring 12 musical performances, with headliners including the Grammy nominated artist Brad Roberts of the Crash Test Dummies, world renowned artist Séan McCann of Great Big Sea and one of the best blues acts in the world with Cornwall's very own The Paul DesLauriers Band.
Other local performers include Eagles tribute band One of These Nights and acoustic performers Ryan and Amanda, Tommy Heatly, Chris Benton, Bruce Ciccarelli, Mena Hardy, Jesse Ferguson and Nick Seguin.
"Musicfest was created to celebrate the art of music and ensure quality live entertainment could continue to shine in our city," says Mr. Mitchell. "There will be great atmosphere, superb company and astounding music performances!"
Schedule
Cornwall Musicfest will feature 12 performances on 3 stages, starting at 2:00 pm on Saturday, August 20th.All events are at the NAV CENTRE located at 1950 Montreal Road.
Here is the main stage line-up:
4:30PM – One of These Nights / Eagles Tribute
6:00PM – Brad Roberts of the Crash Test Dummies
7:30PM – Sean McCann of Great Big Sea
9:00PM – Paul Deslauriers Band
There will also be an after-party performance at 10:15 pm featuring the Cardboard Crowns.
Alcoholic beverages will be permitted throughout the festival site so it will be a 19+ event. Musicfest will feature a Southern Menu, presented by the NAV Centre's very own chef Luc McCabe, along with other food vendors.
Tickets
Festival goers can buy tickets in advance for $30 until Friday, August 19th, or for $40 at the door. Tickets are being sold online at www.cornwallmusicfest.com and at the NAV CENTRE Café, the Lotto Kiosk in Cornwall Square, and Limelight Music and Arts Academy.
Transit
Cornwall Transit is also offering free transit rides to and from the festival site – simply show your fesitival bracelet to the bus driver.
Withy over 700 tickets already sold, Cornwall Musicfest is expected to become an annual event, says Mr. Mitchell, who along with co-organizer Davey Bedard is well-known on the local music scene.
"Music brings us all together, and there is no better place to enjoy live music than on the banks of the St. Lawrence River!"
For more information or to view the full lineup for Cornwall's annual music festival, please click on the following links:
Categorised in: Arts and Entertainment