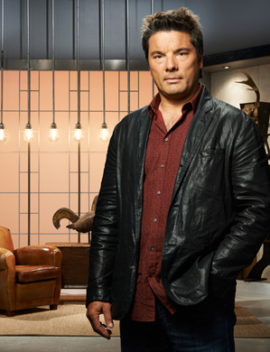 Cornwall Native on CBC's Four Rooms
January 9, 2014
Cornwall Ontario – In 1999, Cornwall Native and former RCMP officer Scott Landon turned his passion for collecting into a full-time career- and he hasn't looked back since. Today he's the proud owner and operator of Vancouver-based Scott Landon Antiques.
He is also a key part of the new CBC television seriesFour Rooms. The show airs Sundays at 8pm
"I had a blast filming Four Rooms with the three other dealers from across the country," says Scott. "We had some laughs, bought great stuff, and hopefully viewers will find it interesting as well as educational."
The premise of the show is simple: members of the public come from across Canada with prized possessions that they think could be worth a fortune. Waiting in four rooms are Canada's top buyers, each of them ready to spend big money on whatever comes through their doors.
But there's a catch.
Sellers can only visit one buyer at a time and if they turn down an offer, it's off the table for good, there's no going back.
"The show's format adds drama to a potential purchase that is already exciting given the value of these unique items," says Scott. "As a buyer, I need to make a fair offer, but also one that that is high enough so that I can secure the item if I really want it."
Scott is an expert in all things Canadian and takes a particular interest in big, bold pieces that have an intriguing back story. His eclectic collection includes vintage industrial pieces, architectural objects, graphic signage and art.
Scott grew up in Cornwall Ontario and went to school at École secondaire catholique La Citadelle in Cornwall's east end.
"I am always looking for great historical early 19th century furniture and items from Cornwall."
Provenance has always been important to Scott, and he travels across the continent in search of high-end pieces not only for his clients, but also for his own design projects.
"I am still fascinated by the items that surface from our ancestors and believe in the importance of saving, keeping and educating about those pieces handed down from the early settlers," says Scott. "Beautiful items, antique, urban, industrial, art… have a way of coming together; sometimes looking back is a way to move forward."
You can follow Scott on Twitter @SLandonAntiques
Categorised in: Arts and Entertainment, General, News