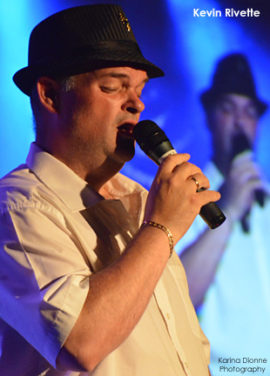 Cornwall Vocalist Places First In Talent Competition
September 25, 2013
Cornwall Ontario – Kevin Rivette has a passion for singing and a passion for his hometown of Cornwall.
The proud Franco-Ontarian and Cornwallite recently combined these two passions and took home top honors in a national talent competition while also putting his hometown on the map with a group of music-lovers in Quebec.
Mr. Rivette recently placed first in the 40 and over category of Trois-Pistoles en Chanson, a popular talent search based in Quebec that has served as the starting grounds of some of the newest and most promising upcoming acts in Quebec. Mr. Rivette's win was the first for a Franco-Ontarian in the competition's 7-year history.
"It was an honour for me to have represented Franco-Ontarian musicians in this competition. Long before me, they have worked to leave their mark on Quebec's music scene so it was a great thrill for me to not only compete in this event, but to win," said Mr. Rivette. "I see this as a victory for all musicians from Eastern Ontario."
Mr. Rivette's stirring performance of 'Mustang Sally' brought the judges and audience to their feet, and he then brought them to tears with his emotional rendition of 'Adieu,' a French version of Lionel Richie's song 'Goodbye' translated by Benoit Brisson. Before performing the song, Mr. Rivette made a dedication on behalf of the Cornwall area to all of the families and victims of the recent Lac Mégantic tragedy.
You view a video of Mr. Rivette's winning performance by clicking here.
Competing in the event allowed Mr. Rivette to connect with other professionals in Quebec's music industry, which he hopes will lead to other performances and opportunities in the future. His vocal abilities have been featured in past competitions, including CTV's Homegrown Café where he won the title of Male Vocal Champion in 1996.
"It was suggested by fellow cast members and the production team that I audition for La Voix (Quebec's version of the International Syndicated show THE VOICE), and I have done so and am hoping for the call back for the live auditions," he noted.
Cornwallites are probably already familiar with Mr. Rivette's past work with Project Goodbye Adieu, a community fundraiser CD which raised awareness for localized cancer treatments and the need to support the military families of the soldiers lost during the mission in Afghanistan. This effort was recognized by Silver Cross Family Richard and Claire Leger, son of Sgt. Marc Leger, as well as Senior Military Defense Staff, Prime Minster Stephen Harper, Governor General David Johnson and numerous Canadian and US Veteran's organizations.
Success on the musical stage is not a new thing for the Rivette family name. This Franco-Ontarian family has been associated with the Cornwall music scene for the past four decades through bands such as the Tiffany Trio, the Hymn Brothers, the Mark IV, Branded Men as well as performing jointly with fellow prominent musicians and bands from the era. During the '60s and '70s, the Rivettes were a common sight on the local club and bar scene, performing regularly at hot spots like the old Royal Hotel, Town Line and Murray Hill Hotel but more importantly were the writers of the Memorial Cup chant and theme song "Go Go Royals," which became the anthem of the Cornwall Royals. They have travelled extensively in Ontario, Quebec, and the US and have backed up some of the most renowned musicians in the music industry.
That passion for music and the performing arts is continued by the next generation of cousins and family members, notably Jean Marc Rivette, Joanne Villeneuve (Ruest), Julie Villeneuve, and well known musician Rod Rivette, son of Cornwall City Councillor Andre Rivette. The passion for music is also alive in Councillor Rivette's daughter Tracey who is currently a music teacher and opera vocalist in Sherbrooke Québec.
Mr. Rivette is quick to point out that he isn't seeking accolades but rather he hopes to draw more attention to the need to recognize and appreciate the numerous musicians and artists who have worked hard to promote the burgeoning arts and culture scene in Cornwall and area. This includes not only the vocal performing arts, but also theatre, dance and visual arts.
"There are so many people that have influenced me in my artistic journey, I feel that they should be properly recognized for the incredible arts plan and map that they have allowed  the next generation to continue! We owe them the respect and the decency to continue that legacy and build on what they have started.  People like Luc Groulx, Raymonde Samson, Seaway Winds and M. Raymond Lacroix, The Centenial Choir, Carm Aube, McAleer Family , Bill and Rosemary Brown, Paul Deslauriers, la Familles Galurons, la Famille Brisson, the Dion Brothers, Fern Coleman,  the Terrien Brothers , Larry Sulvain, Jimmy Oliver, Clarence Stagn, Ron Perkins, Steve Summers,  Ron Lamarche, Claude Desnoyers,  Booth Brothers, Bob Cote, AM FM, The Tri Tones, Claude Lacompte, Ray Campeau, Mike Heanan, Bradley Lewis, and so many other people, fellow friends and bands that I could list till no end," he adds. "We have so much great talent in Cornwall, past present and future. We need to embrace these people and let them know their talents, showmanship and legacy continue to be respected, supported and appreciated!"
Rivette will be back on the stage sometime in the near future, proudly representing his Cornwall musical roots.
"At the end of the day, we are all walking this musical journey together," he said. " On ne doit jamais oublier la contribution musicale de plusieurs de nos ancêtres. Ils nous ont laissés le trajet ou si vous voulez une charte musicale à suivre. Ne laissons-nous pas tomber cette responsabilité! C'est à nous de continuer de montrer l'exemple car si nous ne le faisons pas, les arts seront un jour disparus! »
Categorised in: Arts and Entertainment, General, News